Writer Bill Farnsworth heads out to meet some of the biggest cycling fans in Ontario and to discover new routes to ride…
There's an exciting new cycling group in the Almaguin Highlands of Ontario – just north of Muskoka – and they're on a mission to tell fellow enthusiasts about the amazing cycling to be discovered throughout the region.
Almaguin in Motion (AIM) brings together a community of like-minded cyclists who ride and promote the area for cycling tourism. Founder Dave Wright notes that, even in the past couple of years, the level of awareness and respect that cyclists are given on Almaguin's roads has increased significantly, and he hopes that, with more cyclists hitting the pavement in these parts, this trend will continue.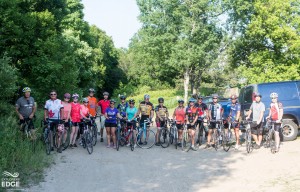 This summer I had the opportunity to head out with AIM on one of their Tuesday night rides. While the route changes weekly, the cyclists average about 50 km around some of the amazing routes in the Almaguin Highlands. The night I attended we met at The Northern Roadhouse in Sundridge, with the evening's route taking us along Highway 124 to the town of Magnetawan and back. I was a bit wary of the distance, as I only own a mountain bike, but Dave assured me prior to the ride that I would not get left behind. There are different levels of riders present each night, and some go hard for the full distance while others set a slower pace to enjoy the sights and do a smaller portion of the route.
I arrived early, introduced myself, and fussed with my bike before we set out. Then Dave arrived in his large blue van. After introductions he opened the back of the van where I was surprised to see at least a half dozen road bikes that he distributed to several of the people present. After the van was emptied, there was one bicycle still remaining. Dave offered to let me ride his 1969 vintage Peugeot race bike (!) for the night, an opportunity I could not resist.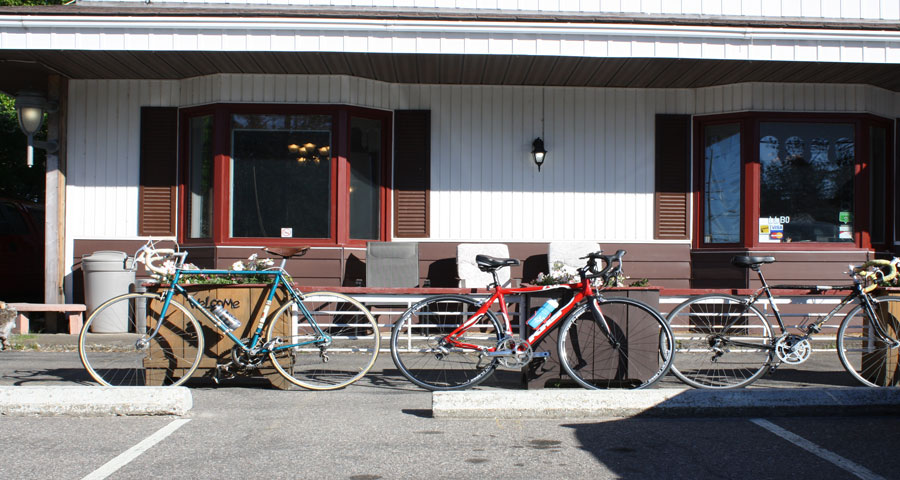 After greetings and introductions were made among the group and the last minute tire pressure and gear adjustments were made, we were off – a mini peloton of approximately 15 people riding in some of the most scenic terrain in cottage country.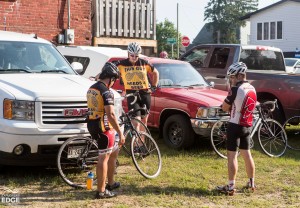 It only took a couple of kilometres for me to realize that my goal of sticking with the lead group would not be possible. As half a dozen stronger riders slowly pulled away into the evening sun, I settled into a steady rhythm and found my place within a smaller group. Highway #124 runs almost 90 km from the town of South River all the way to Parry Sound. Recently, when the section between Sundridge and the smaller town of Dunchurch was repaved, large shoulders were added, making this stretch an excellent and safe route for bicycles and cars to share the road.
As I pedalled the highway, I was amazed at how few cars we met at what I would have considered to be a busy time of night. This is one of the reasons why cycling in the Almaguin Highlands is such an amazing experience. With hundreds of kilometres of roads that see far less traffic than more popular routes to the south, Almaguin offers all of the scenery with a much more peaceful and safe riding experience.
Eventually my legs began to tire and, in an unusual moment of wisdom, I decided it would be best to turn around and be content with a 30 km night. I had the pleasure of pedalling the return route with a pair of strong women cyclists who kept me company (and occasionally bruised my ego a little on the uphills). Arriving back at The Northern Roadhouse, I revelled in a combination of accomplishment and exhaustion. Less than 15 minutes later the lead group wheeled in, having completed the full ride at a blistering pace.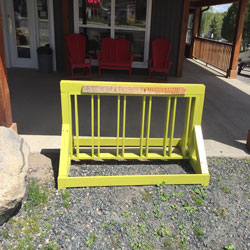 Over the ensuing food and beverages break, stories were swapped, accomplishments compared and future plans were made. Dave Wright reflected on his long term goals for Almaguin in Motion. He started the Bear Chair Co. in South River and, although he is now retired, he has donated lumber for bike racks to be built around Almaguin, including 10 already in place in Magnetawan.
What started as a desire to raise cycling awareness has snowballed into group rides and a push for bicycle-friendly communities. Almaguin in Motion is working hard to ensure that the Almaguin Highlands becomes known as one of the province's premier cycling destinations. After having the opportunity to join them on a ride, I would have to say that they are definitely on the right track.
TO JOIN ALMAGUIN IN MOTION ON ONE OF THEIR WEEKLY RIDES, CHECK THEIR WEBSITE OR FACEBOOK PAGE FOR DETAILS.
TO PLAN YOUR STAY IN THE ALMAGUIN HIGHLANDS OF ONTARIO, CLICK HERE. FOR MORE TOURISM INFO ON THE REGION, VISIT EXPLORERSEDGE.CA.
Guest Blogger: Bill Farnsworth
Bill Farnsworth is the Communications Coordinator for regional tourism promoter Explorers' Edge. He is also an avid cyclist and a glutton for punishment.