Porcupine Ridge Mountain Bike Park in Bracebridge, Muskoka consists of approximately 13 km of trails that climb up and over a rocky ridge at the outskirts of this town's famous amusement park, Santa's Village.  Lovingly nicknamed "Satan's Village" by those who ride there, the website claims the park contains "some of the most technically challenging mountain biking trails in Ontario." That was enough of a teaser for me; I put my bike on the car, double checked my first aid kit, and headed out for what I hoped would be more thrills than spills.
The trailhead at Porcupine Ridge starts in the overflow parking lot across from the entrance to Santa's Village (which is itself situated on the beautiful Muskoka River). Porcupine Ridge was created and is maintained by a passionate and dedicated group of volunteers. As such, there is a pay per use box at the start of the trail, or a season's pass can be purchased online or from Ecclestone Cycle in Bracebridge. There is also a PDF trail map online that can be downloaded to your mobile phone for reference.
The trails at Porcupine Ridge not only contain natural features such as steep hills, rocks and roots, they also boast many man-made technical features including bridges, jumps and –  exceptionally – a "teeter-totter. "  Sizing it up before heading across, it was narrow and did not appear to be very tall, or at least not until I was stalled crossing just as it began to tip, slowly sending me over my handlebars and onto my back. Within five minutes "The Ridge" had drawn its first of my blood.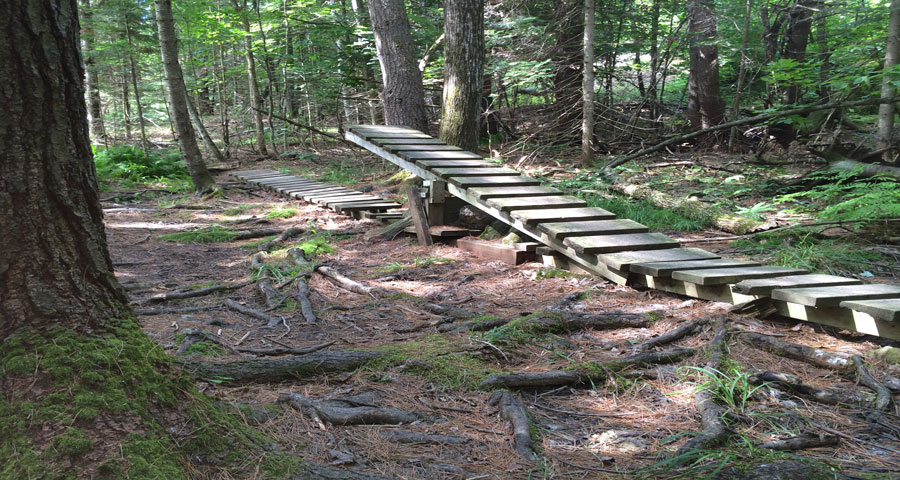 I quickly discovered that the only formula for success on these unique trails was a combination of strong legs and a healthy dose of confidence – perhaps over-confidence in my case. There is an extremely long, raised ladder bridge that got the better of me on my first try. There were root covered, off-camber turns that my wheels (or skill?) were no match for. And there were climbs that I became convinced were not made for ordinary mortals. Even so, with every foot touch, every pedal strike to the shin and every straight up fall I endured, the day's riding became more and more fun. I was taking a beating and loving it!
Porcupine Ridge has fifteen loops featuring names like "Gravity Gulch" and "The Corkscrew," and there was simply too much terrain for me to cover in a single visit. Also on the map are features such as "Lookout Rock" and "Deer Dung Drop."  (Eventually I gave up consulting the map and instead concentrated on riding for pure, punishing fun wherever that took me.)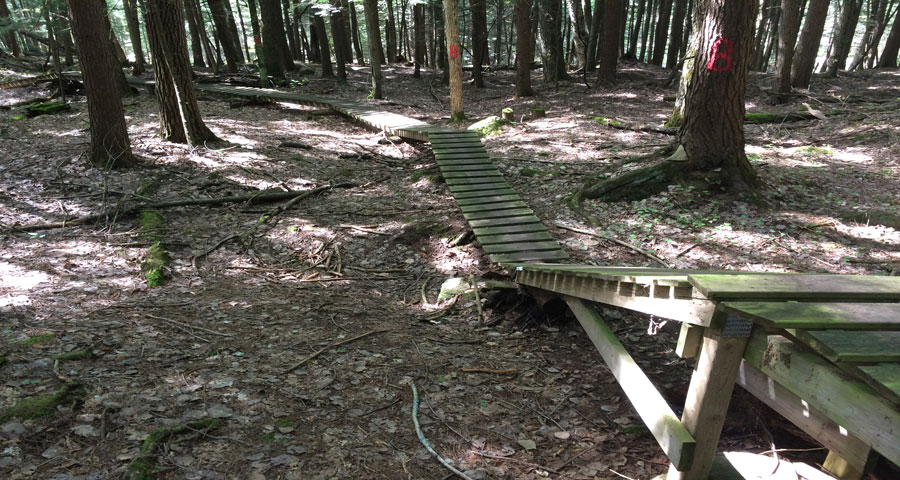 At the end of my ride I returned to the parking lot exhausted, sweaty and brandishing multiple new scrapes and cuts. The ride had truly been – as promised – one of the most technically demanding I have experienced in the province. As I got into my car and cranked the air conditioning, I realised that every ride at Porcupine Ridge would improve my technical riding skills. That was enough motivation to forget all of the nasty words I had uttered over the last couple of hours, and I began planning my return visit to have some revenge on these incredibly fun – and incredibly challenging – trails located in "the heart of Muskoka."
To plan your stay near Porcupine Ridge Mountain Bike Park, click here.

Writer: Bill Farnsworth
Bill Farnsworth is the Communications Coordinator for regional tourism promoter Explorers' Edge. He is also an avid cyclist and a glutton for punishment. Email: [email protected]