Time to ride again in the wilderness just north of Toronto.
From Algonquin in the east to Georgian Bay in the west, from Muskoka in the south to Loring-Restoule in the north, all over  Ontario's cottage country you'll find epic bicycle touring. Featuring downhill, lakeside twists and multi-kilometre stretches through wide open expanses, this region is sure to delight everyone, from weekend warriors to more hardcore devotees. Want a little more insight into how to explore by bike? Consider a guided tour this summer.
The world famous Algonquin Provincial Park is frequently considered a top destination to experience everything quintessentially Canadian; there's moose, deer, lakes and there's no shortage of beautiful lookouts. No wonder it's Canada's most famous park! Algonquin Park Canoe Trips offers 3-hour long Algonquin Park Guided Bicycle Day Tours – among many other styles of tours (canoeing, fishing, hiking, snowshoeing – you name it, they've got it). Your guide will teach you about the history of Algonquin Park, and bring you to key spots you might not have found without them helping you along the way. There's no age requirement for the Algonquin Park Guided Bicycle Day Tour, and no special experience is required either.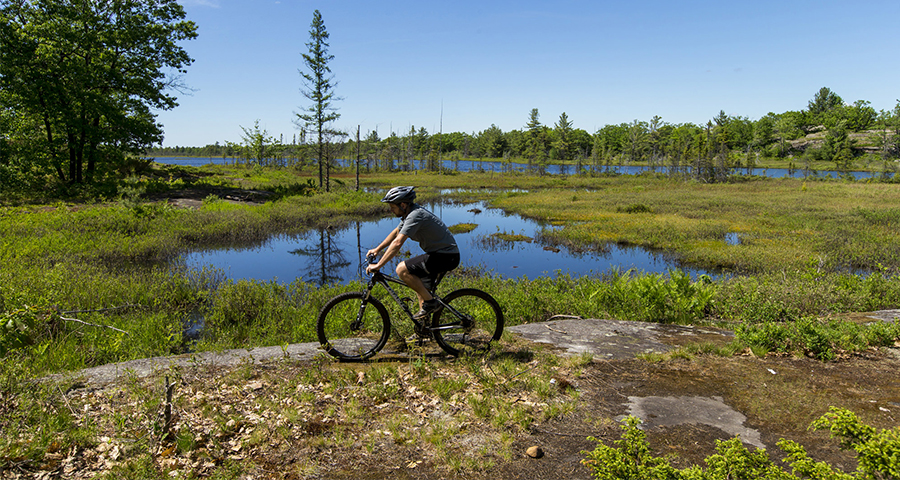 Hit the road with Humdinger Bicycle Tour's 6-day, 5-night Signature Georgian Bay-Muskoka Tour. This loop will have you discovering two UNESCO biosphere reserves, crossing over chunks of the Canadian Shield, and bopping and weaving through Muskoka's shady forests and sparkling lakes. Packaging this biking experience with lakeside accommodations and fantastic food, Humdinger Bicycle Tours takes care of all the logistics, which allows you to take care of having all the fun! These Signature Georgian Bay-Muskoka Tours are available August 9th-14th and September 13th-18th, 2020 – but if you have a group of more than four, inquire about custom dates.
You can always build your own custom tour with some help from Humdinger Bicycle Tours too. They'll take care of organizing your trip by sourcing the best routes, accommodations, and cuisine possible – all you have to do is just show up ready to ride! Offering single and multi-day supported, guided, and self-guided bicycle tours with luggage transfers, support vehicles and tour-specific trip enhancements – Humdinger Bicycle Tours has you covered from start to finish.