Registration is open and organizers are gearing up once again for one of Ontario's favourite spring rides, the Spin The Lakes Tour of the Muskoka region on Saturday, May 28, 2016.
With a start line once again located in Huntsville, the 10th annual Spin the Lakes once again promises to showcase some of the most scenic riding you'll find anywhere in the nation – especially around Muskoka's famous waterways. A non-competitive event, you'll ride through historic towns, and experience spectacular views and stunning rock cuts as well.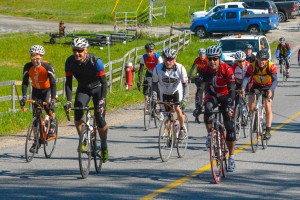 Register for 20km, 58km, 96/105km, and 165km routes by May 26. The event includes a post-ride brunch, showers and pool available after ride at Hidden Valley Resort, and support vehicles on all routes (although it's recommended you carry your own tubes & repair kits in case the support vehicle is delayed).
A labour of love for local cycling advocate Jim Brendish (founder of Bike Muskoka as well), the event was started to invite riders from all over the globe to experience the unrivalled beauty of the region, and to provide an event for riders not interested in competing also. With a lot of hard work and dedicated volunteers, the Spin The Lakes Tour has grown from 180 riders in the first year to over 650 in the 2015 edition.
For more information on the Spin The Lakes Tour taking place on Saturday, May 28, 2016 (including overnight accommodation information) click here.