Buckwallow Cycling Centre in Gravenhurst is home to Muskoka's most diverse offering of mountain biking action. From the moment you arrive in the parking lot, it is evident how much time and care has gone into the centre by its owner, Mike McLaughlin. Mike is often in the parking lot talking with people, offering advice and just hanging out with fellow cyclists. Some of the amenities that Buckwallow has to offer include the cleanest and freshest smelling outhouse I have ever encountered, changing booths, a bicycle wash station and a firepit to gather around after your ride and swap stories of your latest adventure.
THE TRAILS
The approximately 30km of meticulously maintained trails are a mix of double track routes that loop throughout the property and link to exceptional single track trails. The trails are all marked clearly, both double and single track, and correspond perfectly with the maps that are available online (click here) or in the parking lot. Single track routes are both named and numbered, with brief descriptions of each posted at individual trail heads.
Mike has rated his trails with a very appropriate "hoof" rating scale that goes from 1 to 6. Single hoof trails are generally smoother with less elevation change and fewer roots and rocks to negotiate. More advanced riders should not be too quick to rule these routes out, however, as the challenge and fun factor increases exponentially as you crank up the speed.  As you progress through to the harder trails, you can expect to be confronted with a variety of obstacles and challenges. The property traverses acres of mature forest and, as such, there are tree roots galore, from small protrusions requiring little effort to massive snarls that threaten to suck in your tires and never let them go!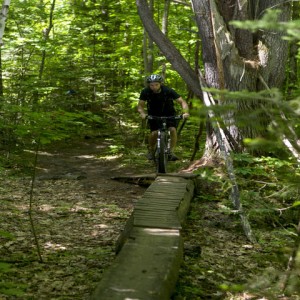 Buckwallow is also well known for its exposed rock. From large "whalebacks" to ride up and over, rock gardens of varying difficulty to sections that have been carefully armoured by Mike and his staff, there are almost constant reminders that you are riding in Canadian Shield territory. There are also several man-made features to contend with, including bridges, log rides such as the infamous "adze factor" and several jumps.
To ensure the fun and safety of all riders, the hardest natural and man-made features have bypass trails leading around them. The diversity of the terrain makes each trip a little different. I have been making the pilgrimage to the trails as often as possible for five years now, and every ride I take brings a new adventure, a different obstacle conquered and another section to work on next time.
Buckwallow is extremely family friendly for riders of all ages. I have been riding there with my two boys since they were six years old. As they have grown, it is amazing to see them clear sections of trails that they were forced to hike over in previous seasons. The fact that they can progress year after year keeps my adventurous boys eager to return again and again.
EVENTS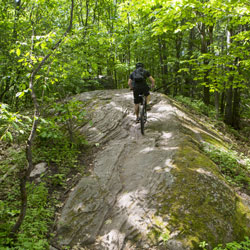 The centre also hosts many special events throughout the season. Head out for one of a number of bicycle manufacturer demo days and ride the newest models on the trails. Friday nights there are always group rides with specific dates geared to different types of riders, from beginner nights, family group rides, ladies specific rides and even the "Gnarly" advanced and technical group rides. As well, for those with a more competitive side, head out Thursday nights for the Mudslinger Race Series that takes place from early May until the last Thursday in August. Put on by Angry Johnny's Racing and sponsored by Algonquin Outfitters, this is a points series with overall prizes in multiple age brackets awarded at the series finale in August. The race route changes weekly and attracts both hard core racers as well as riders who want a little friendly competition with their cycling peers.
As its reputation grows, Buckwallow has been attracting riders from across the province and beyond. Whether you are a recreational rider who loves to be out in nature, a dedicated racer looking for a serious challenge or anyone in between, the trails at Buckwallow will leave you with a smile on your face and the desire to come back time and time again.
TO PLAN YOUR STAY IN THE REGION CLICK HERE.

Writer: Bill Farnsworth
Bill Farnsworth is the Communications Coordinator for regional tourism promoter Explorers' Edge. He is also an avid cyclist and a glutton for punishment.