The sport of fat biking can no longer be called new, but it is one that many have yet to try. Fat bikes are designed with extra wide tires that can literally float over the snow and mud that wouldotherwise strand an ordinary mountain bike. A fat bike is the perfect way to extend the cycling season, and there is something magical about pedalling your favourite trails, or discovering new ones, when the scenery is blanketed in crisp, white snow. Check out this list of amazing places to try fat biking in Ontario's cottage country:
The Old Railway Bike Trail in Algonquin Park is groomed annually for skiing, fat biking and snowshoeing. The trail begins at the Mew Lake Campground (where there is a comfort station with heated washrooms!) and travels almost 14 km to the shores of Rock Lake. As its name suggests, the trail follows an abandoned rail line, so the terrain is generally flat, making this an excellent choice for families or those new to cycling. Maps and day use permits are available from either the Park's East or West Gate. Bikes can be rented in Huntsville at Algonquin Outfitters or Muskoka Bicycle Pro Shop.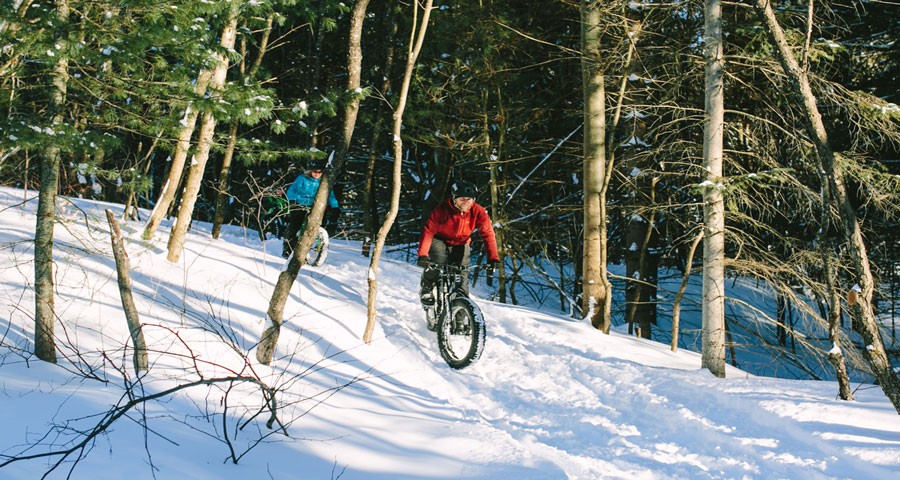 Liv Outside is a unique outdoor adventure centre that maintains a trail system near their store in the heart of Bracebridge. The trails are on private property, so be sure to sign in at the store and sign a waiver. Donations are requested to help with trail maintenance, and there is a strict "no boots policy" against hiking to keep the trails pristine. The experts at Liv Outside will rent you a fat bike and provide you will all the info or gear you will need to enjoy a few hours in the saddle.
I had the opportunity to sample the hiking/cycling trails at The Torrance Barrens this summer (click here for my review). Just outside of Gravenhurst, the Barrens have an absolutely unique geography that creates the setting for an epic ride. The main loop is generally packed by snowshoes and hikers, creating an excellent base for a fat bike. The trail is mostly flat, providing an excellent place for winter cyclists of all ability levels while providing the perfect place for a relaxing hour or two of pealling. The Bike Shop in Gravenhurst can rent you a fat bike and give you directions to the trailhead.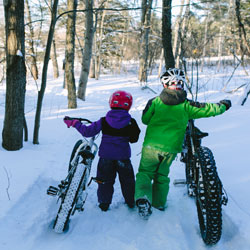 This year will be the second year that fat biking will be available at the Georgian Nordic Ski Club in Parry Sound. The club has groomed double track trails to ride as well as singletrack biking and snowshoe trails that take advantage of some of the property's beautiful and unique scenery. Developing as all-season biking destination, cycling-specific trails are being added to the property each year.
Before you go, be sure to buy a day pass and sign a waiver from Parry Sound Bikes or Trysport, both located in Parry Sound. Both locations rent fat bikes and can offer directions to some other riding destinations nearby, such as the Rotary and Algonquin Regiment Fitness Trail, another fat bike favourite that runs along the shores of beautiful Georgian Bay.
You don't need a trail to enjoy a fat bike. The region is filled with lesser travelled, scenic backroads that are excellent for a winter ride. While it is not recommended to ride on busy roads or highways in the winter, pedalling along a winding snow-covered road can be extremely satisfying. The Almaguin Highlands and Loring-Restoule have some great routes that will take you on a winter adventure of whatever length and difficulty you desire. Check out some of the suggested routes listed on this site for ideas to plan your route.
Fat bikes also provide a new way to enjoy the lakes that make our region famous. Many of our frozen lakes see significant snowmobile traffic, which provides an endless supply of packed tracks to ride on. Try to follow less busy tracks versus the main, marked trails and always ensure the ice is safe before heading out. A good place to start when searching for ice quality on your local lakes is the OFSC Snowmobile Trail Guide, which shows current conditions of trails over land and water throughout Ontario. The Canadian Red Cross has an excellent resource for learning about ice safety. On lakes that have marked snowmobile trails, a good rule of thumb is to wait until the official trail markers are placed across the lakes, indicating the ice is safe for traffic.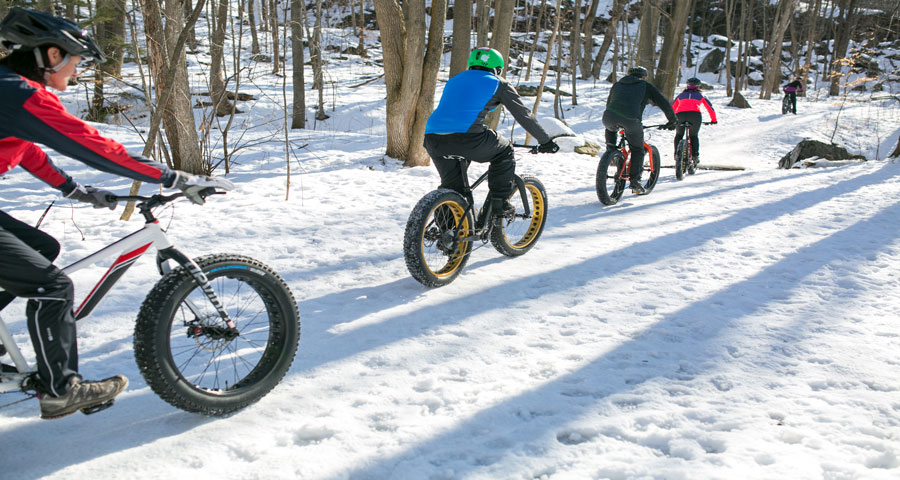 This winter, throw your leg over a fat bike, jump on the saddle and explore the region as you have yet to experience it.
TO PLAN YOUR STAY IN ONTARIO'S COTTAGE COUNTRY, CLICK HERE.

Writer: Bill Farnsworth
Bill Farnsworth is the Communications Coordinator for regional tourism promoter Explorers' Edge. He is also an avid cyclist and a glutton for punishment.