Writer and rider Bill Farnsworth has created this list of tips for newbies to the sport of fat biking to hit the trails in the wilderness north of Toronto.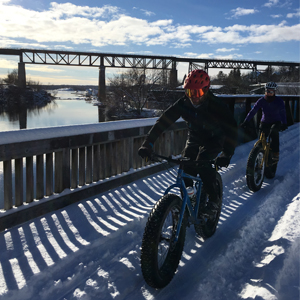 The sport of fat biking is one of the most fun and exciting new ways to enjoy the outdoors in Ontario's. Essentially a mountain bike with extra wide tires, these bikes allow you to ride almost anywhere there is a snow-packed trail. This season, experience winter the way you've never imagined – from the saddle of a fat bike. All you need are these simple tips to get you going:
THINK TECHNIQUE:
Although rooted in mountain biking, you'll get the best out of a fat bike with a slightly different approach to riding.
Two keys to fat tire success are gentle steering inputs and staying upright on the bike. If you turn the handlebars of a fat bike too quickly the tire will sink and you will lose traction and end up in the soft snow. Use a slow and steady hand and try to look far enough ahead that you can anticipate when you will need to turn early enough that you don't have to make any sudden direction changes.
Posture on the bike is also an important skill when fat biking:
"On a mountain bike you really lean into a corner," says Carlee Wood, Bike and Nordic Manager at Algonquin Outfitters in Huntsville. "On a fat bike you need to use your core strength to maintain a vertical posture."
Leaning too far to either side will cause the tires to lose grip and slide out from underneath the rider. Pedaling technique is also different. Wood says it is important to "…concentrate on making smooth pedal strokes, applying force in complete circles instead of just pushing down hard on each pedal. Sudden bursts of power can cause the rear wheel to spin out."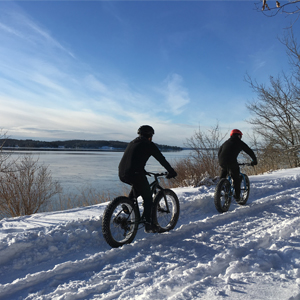 DRESS FOR THE WEATHER:
Another critical factor is dressing appropriately for the temperature. Sweating when riding in sub zero temperatures can become quite dangerous. If you slow down or stop to take a break the moisture can begin to freeze and it can be very difficult to get warmed back up. A good rule of thumb is to dress so that your body feels chilled at the start of your ride. Dress in layers, so you can take off an outer layer if you start to sweat:
"Dress the same as you would for Nordic skiing or snowshoeing with an outer windbreaking layer you can remove if needed," says Aleesha Mullen, owner of Parry Sound Bikes. "Unless it is very cold, avoid wearing a downhill skiing helmet which is almost always too hot for cycling. Wear your normal bike helmet with a thin beanie underneath for warmth."
When it comes to footwear, insulated and waterproof hiking boots or shoes are best. Remember to always put on fresh dry socks immediately before setting out as your feet tend to sweat while driving or walking to the start of the trail. "It is also very important to wear gloves or split fingered mitts when fat biking," says Mullen. "If you are trying to brake with mitts on you can easily lose control of the bike."
PLAN YOUR ROUTE:
Finally, choosing the correct day and location are important factors in enjoying a fat bike experience.
"The ideal trail is hard packed snow," advises Ian Dawes, owner of Bracebridge's Ecclestone Cycle. "Small patches of ice are okay – but treat any ice longer than the length of the bike with respect. Otherwise your bike may slide out from under you."
Trails that get regular foot or snowshoe traffic generally make for exciting fat biking. Like riding singletrack trails in the summer, a narrow path through the woods can make even a routine ride feel fun and exhilarating. Another key is to start with short trails.
"You won't be riding fast so you don't cover nearly the distance you would on a mountain bike in the same time period," adds Dawes.  "Tire pressure is much lower on a fat bike so it takes more work to cover the same distance."
Choosing the correct day is also important. Fresh snow can make for an extremely frustrating experience, and a cold headwind can quickly zap energy and enthusiasm
Have Fun!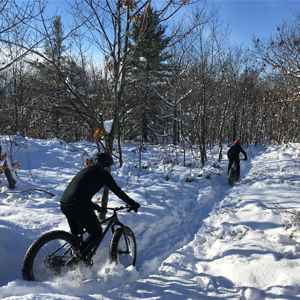 Fat biking is a great way to see a new side of Ontario's cottage country in the winter. With the proper preparation and a few helpful suggestions, even your first wide tire adventure can be a fun and rewarding challenge. So layer up and hit the trails this winter!
Click here for more info about where to ride and rent fat bikes across the region. 
To plan your stay in the region, click here.