Writer and rider Bill Farnsworth is great at sharing – especially when it comes to the snow-blanketed trails across the great Canadian wilderness just north of Toronto.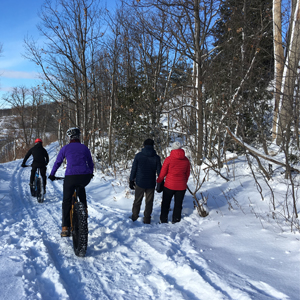 As Canadians embrace the snowy season to enjoy various outdoor adventures, trails all across Ontario's cottage country are living up to their multi-use designation. But with more than one type of activity happening on the trails – from snowshoeing to Nordic skiing to snowmobiling – where do fat bikes fit in and how do we all get along? If you're heading out for a ride, remember these simple rules of etiquette to ensure everyone enjoys the beauty of a winter day in the wilderness.
Snowshoes & Fat Bikes
Snowshoeing and fat biking are the most complementary sports when it comes to shared routes. Snowshoes are excellent at packing down a path that is wide enough to comfortably cycle. After only a couple of passes, a trail that has seen snowshoe action can support a fat bike. Where the fat bike tire does sink through the trail, a person on snowshoes can still easily travel on top of these tracks. When sharing trails, however, it is important to be respectful. Aleesha Mullen, owner of Parry Sound Bikes, recommends having a bell on your bike:
"Snow can muffle the sound of a bike, so use your bell early and often. Be respectful and give way to hikers and snowshoers when necessary." A friendly attitude and a genuine thank you can go a long way to foster good will among trail users.
Nordic Skis & Fat Bikes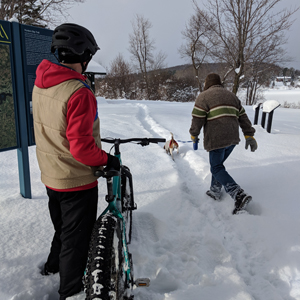 There are several areas across the wilderness north of Toronto where fat bikers and Nordic skiers share trails. When planning a cycling trip to a location like the Georgian Nordic Outdoor Activity Centre in Parry Sound or Algonquin Park's Old Railway Bike Trail, be prepared to respect the time and effort required to groom successful ski trails. Ensure that the packed surface is firm enough and your tire pressure is low enough to prevent the bike from sinking into the trail. These types of ruts make skiing extremely difficult:
"It is very easy for a fat bike to ruin a ski trail," says Carlee Wood, Bike and Nordic Manager at Algonquin Outfitters in Huntsville. Any place where a cyclist is required to cross a track set ski trail, it is imperative to pick up the bike and step carefully over the tracks. Disrespecting other winter sports is the fastest way to have trails closed to fat bikes. With an attitude of mutual respect, both skiers and cyclists can share some of the more unique and challenging trails the region has to offer.
Snowmobiles & Fat Bikes
Some trails, such as Parry Sound's Rotary and Algonquin Regiment Fitness Trail, are also open to snowmobile traffic. Cyclists should exercise caution in this situation, and move well off the trail when you hear the sound of an approaching machine. As for actual groomed snowmobile trails, Ian Dawes, owner of Bracebridge's Ecclestone Cycle says to stay off them completely:
"Sled trails should be off limits. They're set up by the OFSC, which have put in a lot of time making specific agreements with landowners,"  he notes.
When ice conditions on the lakes are safe, however, a trail that is away from a snowmobile club's marked route but has been packed down by a sled can provide an excellent adventure. Wide open lake views make the perfect backdrop for a day in the saddle. Be sure to do advance research on ice conditions before setting out. Outdoor Canada provides some ice safety tips that apply to fat bikers as well as ice fishers.
An attitude of respect and inclusiveness is important as the number of fat bikers on regional routes increases. Be aware, communicate, and share the trails. Making sure everyone can enjoy their favourite sport means more opportunities for winter fun. Jump on a fat bike and experience an epic winter adventure in Ontario's cottage country.
To plan your stay in the region, click here.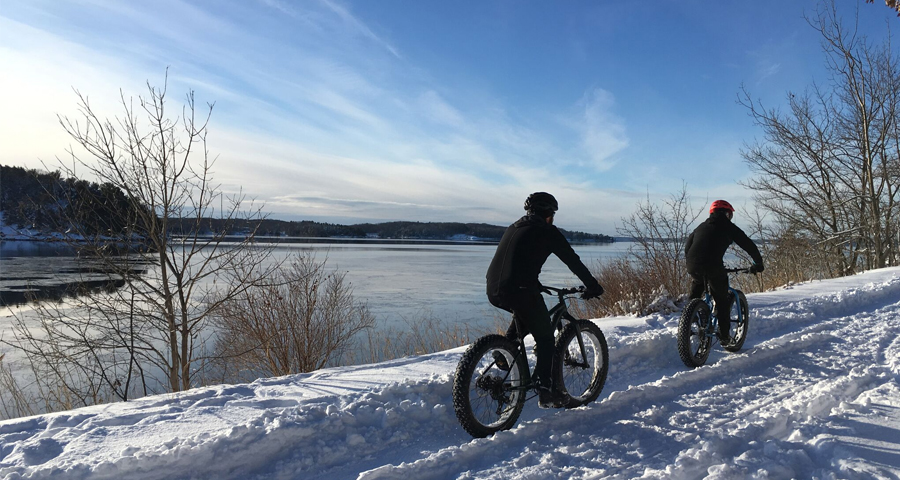 Guest Blogger: Bill Farnsworth
Bill Farnsworth is a freelance writer who has lived in Muskoka for more than 30 years. When not writing, Bill can be found cycling, running, paddling and trying to keep up with his two adventurous boys.