Local cyclist Bill Farnsworth has plenty of recommendations to make your spring ride in the great Canadian wilderness just north of Toronto unforgettable.
EDITOR'S NOTE: Please respect the rules of all managed trails, including open and closure status. Check trail websites for usage requirements, including passes where necessary. It's been a looonnnnng winter, and trails may be opened later than usual this year. Thanks to all the incredible volunteers(!) who work on the trails for everyone's enjoyment.
Spring fever hits cyclists especially hard; we spend our time assessing road shoulders for salt and sand, combing over Google maps for loops, and staring longingly at bikes waiting escape from storage. And there is no better place to find a cure for this particular affliction than on the roads and trails of Ontario's cottage country.
Scenic Rides to Loosen the Legs
One of my favourite early on-road rides is the AIM Triangle, named after the Almaguin In Motion cycling club. This route is a 65 km adventure through the heart of the Almaguin Highlands, passing through the communities of Burk's Falls, Sundridge and Magnetawan. The roads receive plenty of sunlight to melt that end-of-season snow, and the route runs past scenic Lake Cecebe, as well as rolling farms and pastures.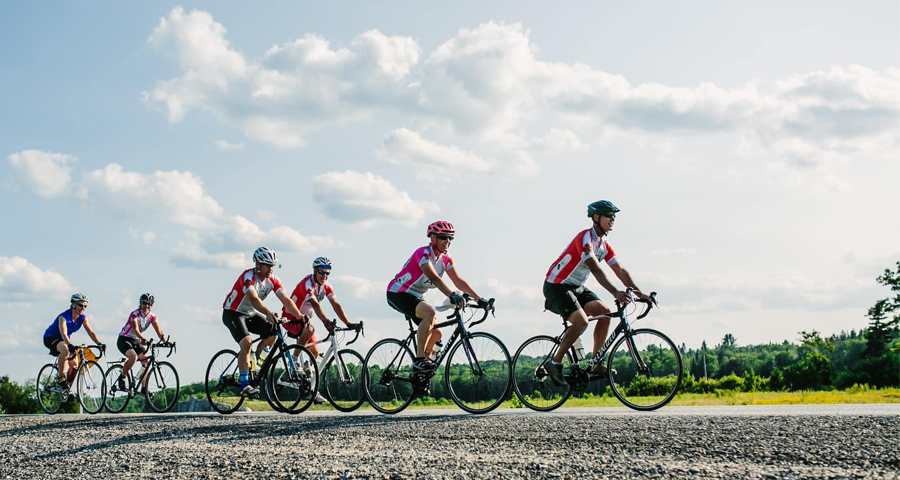 For those looking for an out-of-the-way spring century (100 kms), travel north to the village of Trout Creek. From there you can pedal the out-and-back route to the community of Port Loring along scenic Highway 522. I love the combination of smooth pavement and amazing landscape, which includes wide open vistas, long, rolling hills and many beautiful, small lakes.
Another fantastic spring ride starts and finishes at the historic Muskoka Wharf. Locally known as the Gravenhurst/Doe Lake Rd Loop, this 55 km loop provides a mix of fast paved sections and quiet back roads.
You'll pedal past Muskoka Beach and through the remains of the historic communities of Matthiasville and Uffington. While at the (stunning!) Wharf, take the time to view the iconic steamships, the RMS Segwun and the Wenonah II, and learn more about them at the Muskoka Discovery Centre (hopefully they are moored when you wheel by…).
Great Gravel Rides
With a few paved rides under our belts, it's time to saddle up for some gravel adventures. The Almaguin Highlands region is my favourite go-to destination for challenging and rewarding gravel routes. At least once each spring I like to head to the Village of South River. I park at Tom Thomson Park and head east over the scenic causeway along Chemical Road. From here you can explore remote gravel back roads and create loops from 16 km to over 50 km with a scenic trip past Kawawaymog Lake, which Tom Thomson often paddled to reach Algonquin Provincial Park. While in South River, check out the Explore South River website and app for maps and information on other activities throughout the area – and be sure to brake for a break at the South River Brewing Co. – winner of a 2022 Ontario-By-Bike "Bike-Friendly Business Award"!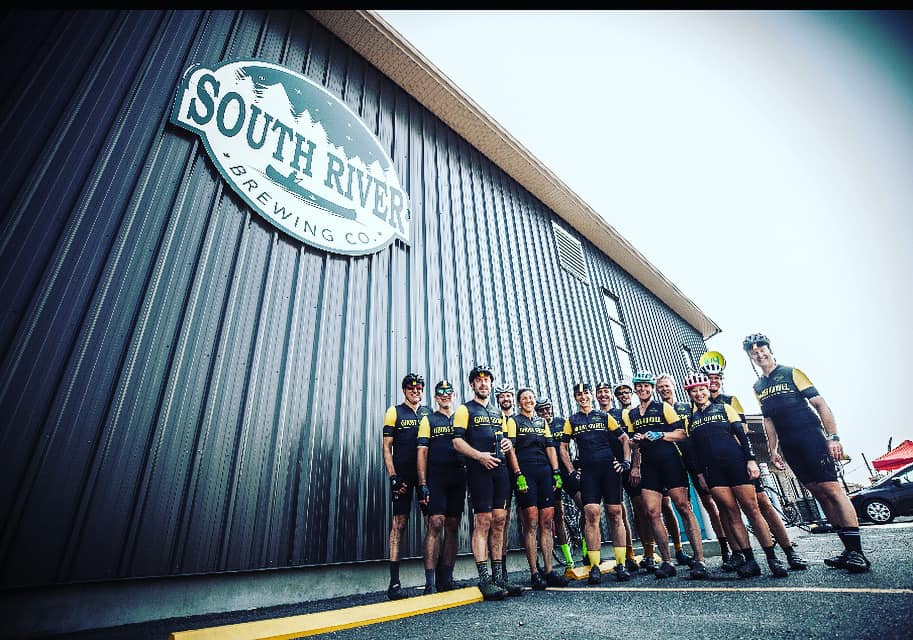 The Trans Canada Trail (TCT) is the longest trail network in the world and over 80 km of it runs through Muskoka. The route features a mix of paved and gravel roads combined with trails, and even a floating boardwalk in Huntsville! A gravel bike is the perfect way to experience the trail; you'll be well-equipped for the many terrain changes you will encounter. The TCT website and mobile app are easy to navigate and provide real-time location and directions throughout the route. Plan to complete a section through one of Muskoka's towns or use the connecting routes to choose your desired level of adventure.
Does your spring cycling fever call for the pinnacle of challenging gravel routes? Head to Parry Sound and test your skills on the Rose Point and Seguin Trails. Maintained by the Park to Park Trail organization, these trails follow the route of the Ottawa, Arnprior and Parry Sound Railway created by lumber baron J.R. Booth. When combined, these trails offer nearly 100 km of remote and scenic riding that is shared with motorized vehicles. The surface can range from coarse gravel to soft sand, so wider tires are definitely recommended. Early in the season, I will often ride my mountain bike just to get a trip in. The payoff comes from the views of pristine forest, wildlife rich marshes and crystal blue lakes.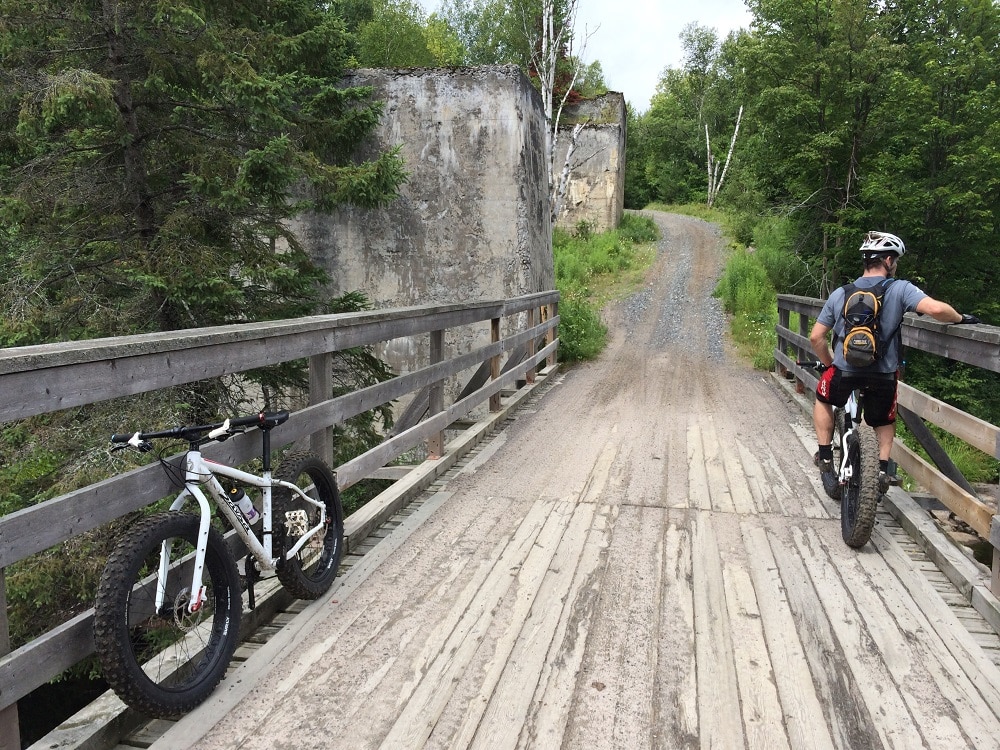 Not sure where to begin your gravel adventure? The Huntsville Mountain Bike Association is hosting a gravel cycling event in the Almaguin Highlands. The 2023 Greystone Gravel Grinder is a fun event raising funds for the club. Your $50 entry fee gives you access to 20 km, 40 km or 80 km loops expertly curated by the 'King of Almaguin Gravel', Rob Edmonstone of Missing Link Adventure Tours. You will also receive a post-ride barbecue and free pint of local craft beer.
Mountain Bike Madness
The Muskoka Off-Road Cycling Association (MORCA) has been working with the Town of Bracebridge and other stakeholders to create and maintain fun and challenging trails in Muskoka.
As a result, the Bracebridge Resource Management Centre is now one of the area's best riding destinations, with flowing doubletrack that offers scenic views of the Muskoka River.
MORCA has been busy building an impressive network of dedicated mountain bike trails for all skill levels, from tight and twisty singletrack to challenging and technical routes that highlight the granite stone and elevation changes of the centre.
For the ultimate challenge – and also in Bracebridge – check out the trails at Porcupine Ridge. Considered an expert-level destination, these trails combine steep grades with rocks, roots and built structures. (Located near the famous amusement park, Santa's Village, riders who try out the Porcupine trails lovingly refer to them as "Satan's Village". Bring your game.)
The Huntsville Mountain Bike Association (HMBA) has been creating new and exciting single track at several locations in the Huntsville area. The club is growing quickly and is committed to getting their community out into nature on bikes. The trails at Lance's Loops have been my go-to spring destination for over 30 years. Since HMBA partnered with the current land owners the trails have been greatly improved and expanded. You will find flowing trails that take advantage of the topography mixed with fast downhills and steep punchy climbs. There is something here for every skill level and I never leave without a big smile and a story to tell.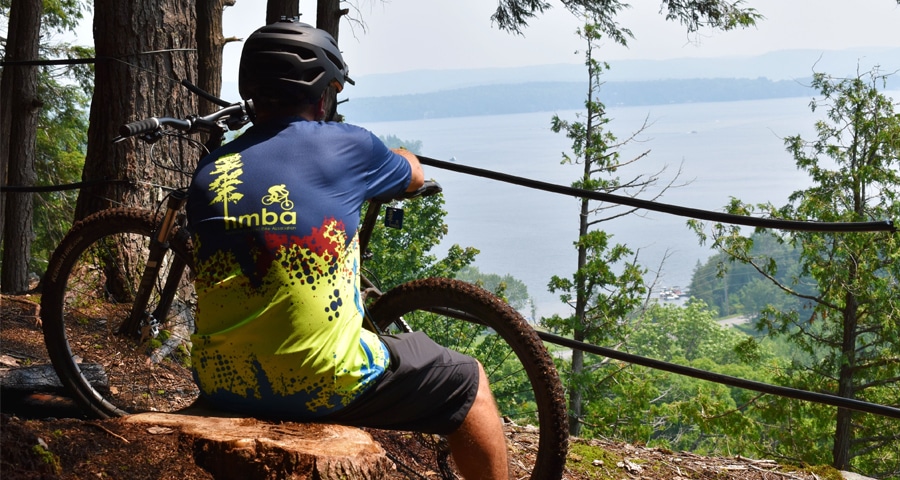 The club has also partnered with Hidden Valley Highlands Ski Area to create incredible singletrack that takes advantage of the elevation changes and offers an epic view of nearby Peninsula Lake. Over the hill HMBA is also working with Deerhurst Resort to rehabilitate their existing trails and create new routes.
Georgian Nordic Outdoor Activity Centre (GNOAC) located just outside of Parry Sound, takes advantage of the 800+ acre property to provide remote single and doubletrack mountain bike trails. The 8 km Lynx Loop Trail is recognized as one of the Amazing Places of the Georgian Bay Biosphere. Volunteers have been building trails here for many years, taking advantage of the unique landscape and highlighting features such as exposed granite ridges and scenic wetlands. I love the way these trails have been planned to showcase the very best of the Georgian Bay terrain. (Passes for GNOAC are required and can be purchased through Get Outdoors Parry Sound.)
How about one final trail that often gets overlooked? If you are seeking a more gentle ride with incredible views and sprinkled with a dose of local history on top, then the Old Railway Bike Trail in Algonquin Provincial Park is for you. Located on  a portion of the same Ottawa, Arnprior or Parry Sound Railway as the Seguin Trail, this track is almost completely level with a hard pack surface that is great for a gentle cruise or an all out rip. Along the way there are interpretive signs that describe the history of logging in the region as well as the topography and wildlife. This is one of the first trails I took my kids on when they were small. The combination of level trail and hard pack surface makes young riders feel like rock stars!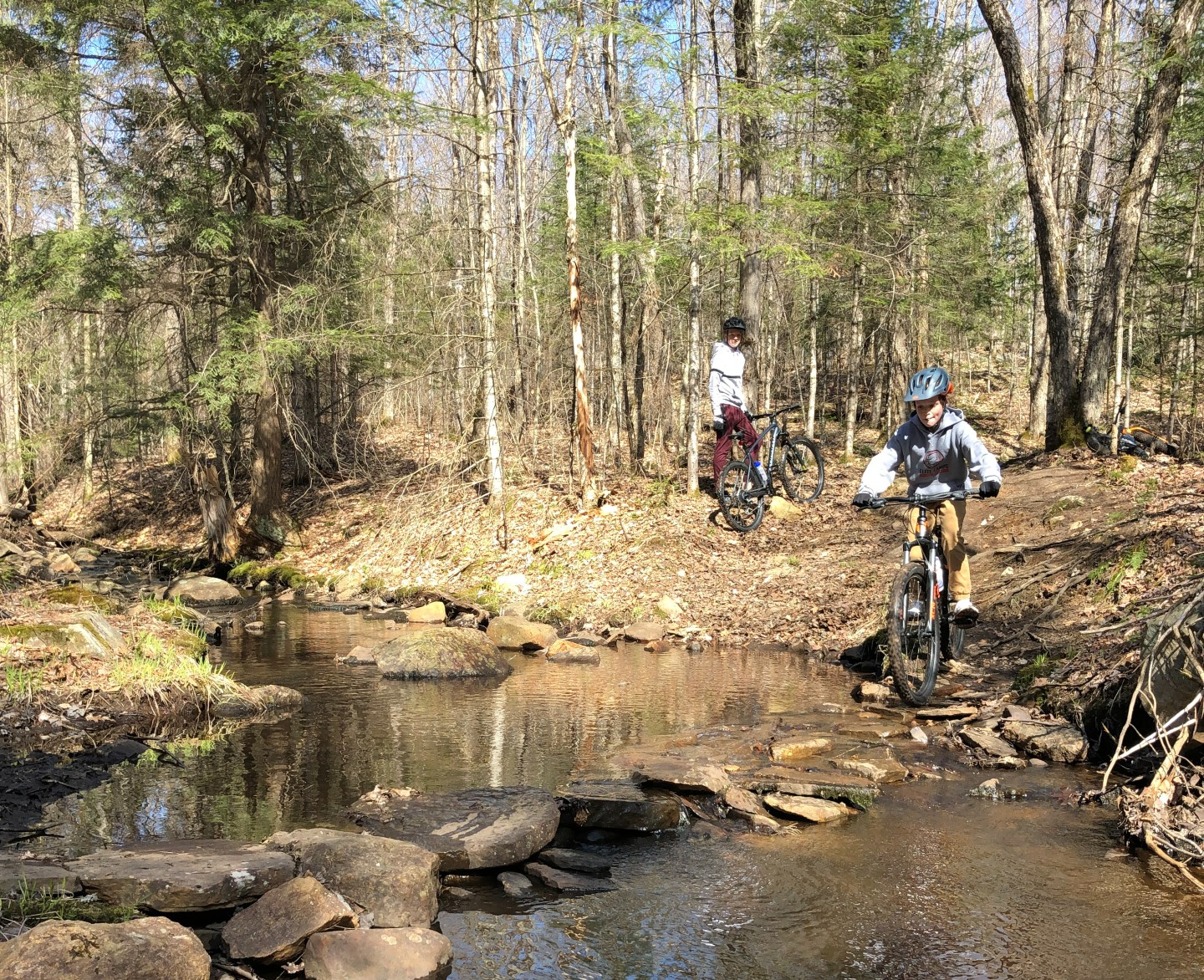 If, like me, your brain is buzzing and your nerves are tingling with spring cycling fever, you'll find the cure on the roads and trails of the great Canadian wilderness just north of Toronto. Endless ribbons of pavement snake their way through forests and along waterways while gravel roads wind through back roads steeped in history. Local clubs have created trail systems that take advantage of the region's unique topography and features to create epic singletrack that you will be talking about for the rest of the season.
For route and trail planning in the region, check out the helpful BikeCottageCountry.ca site for hundreds of recommendations and details from Ride With GPS. And while travelling through the region, be sure check out these local bike shops for parts, route knowledge, rentals, and lots and lots of bike talk.
Algonquin Outfitters – Huntsville & Lake of Two Rivers in Algonquin Park
Ecclestone Cycle – Bracebridge
Lake Bernard Bicycle Repair – Sundridge
LIV Outside – Bracebridge
Muskoka Bicycle Pro Shop – Huntsville
Nielsens Bicycles – Bracebridge
Ontario Trysport – Parry Sound
Parry Sound Bikes – Parry Sound
The Bike Shop in Huntsville – Huntsville
Interested in cycling events and group rides in the region? Click here. Looking to rent or prefer a guided tour? Click here. Looking for more great ride recommendations? Click here.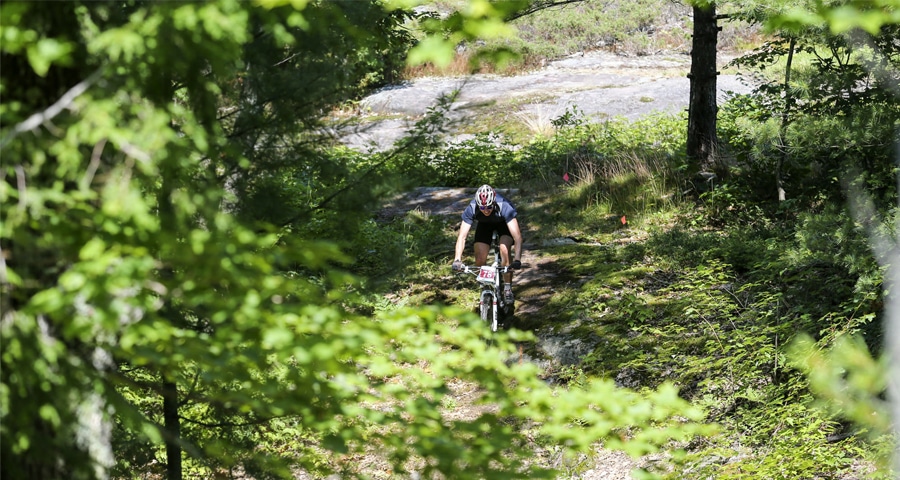 Photo Credit: Get Outdoors Parry Sound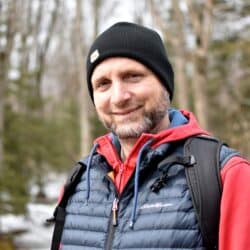 Guest Blogger: Bill Farnsworth is a freelance writer who has lived in Muskoka for more than 30 years. When not writing, Bill can be found cycling, paddling, camping or planning his next big adventure.