Thanks to incredible work by the Huntsville Mountain Bike Association (HMBA), you can now ride some more fantastic trails near Huntsville, Muskoka. Saddle up this summer at Hidden Valley Highlands Ski Area and check out these new classic loops located just minutes from downtown. Off-road enthusiast Bill Farnsworth gives us a sneak peak.
Hidden Valley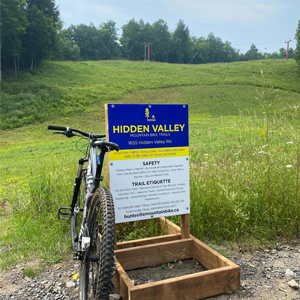 A well-known winter playground for almost 60 years, Hidden Valley is set to become your next great summer cycling destination. Through an innovative partnership with the
Town of Huntsville
,
Hidden Valley Highlands
, and the
Huntsville Mountain Bike Association
, there are now a pair of trails that transform the unique topography into a thrilling mountain bike adventure. With an official launch date of Monday, August 16, 2021, the trails will be open and accessible to the public free of charge. Fortunately, I was given the opportunity to head out early to get a sneak peek at what these new trails have to offer. I set out on the intermediate loop on a beautiful sunny day. The trails are located on a ski hill, so as expected there is some climbing to get to the trails. The initial ascent is challenging, but it is partially shaded and makes for a great warm up. Once into the woods a series of well cut out switchbacks takes you up the rest of the hill, providing a rewarding "I conquered the Mountain" feeling as you attack the grade. Once you near the top of the hill, the real fun begins. The singletrack trails wind through the forest, travelling up and over roots and rocks. Continual grade changes keep riders engaged and focused! There is literally never a dull moment, as each turn brings a new challenge or unexpected surprise. (HMBA has taken the time to create a detailed map of the trails
online
and on your mobile device using the Trailforks platform…be sure to check it out before you go.) One of the highlights of the trails is the expansive lookout over the valley and Peninsula Lake. Only accessible by riding, this scenic treasure is worth the effort to get there. After stopping to enjoy the view, it was time to get back to riding. As with all things, what goes up must eventually come down. When the trails start to descend, the speed picks up and the challenges continue. There are banked turns, roots, obstacles and some rock gardens that will test all of your technical skills. There are also some fast and flowing sections where you can really build some speed. Count on having tired arms and a huge grin on your face when you get to the bottom and emerge into the sunshine at the base of the ski hill.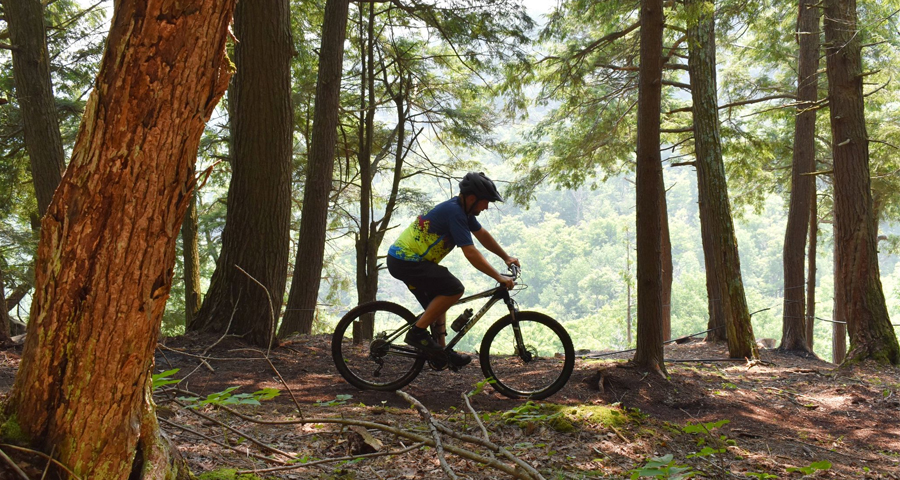 Don't worry if this sounds a little daunting. There is also a beginner loop that will be finished by the opening date. This will give riders a second option that will provide all of the fun but scale back the challenge level slightly. Don't be fooled, though; climbing out of "The Valley" will still test your cardio! The two trails will ensure that riders of all levels can enjoy this new facility. You can ride either loop separately or link them together to create twice the adventure.
HMBA
was founded in 2018 by a group of dedicated cyclists who recognized a lack of mountain bike trails and infrastructure within the town. The club's mandate is to ensure mountain biking is a part of Huntsville's future recreation planning, to work with community partners to build and maintain a network of trails in and around Huntsville and to make mountain biking safe and accessible for everyone. The club now has a membership of over 300 and a dedicated group of volunteers who have excellent trail building experience, and it shows as you ride their trails. Routes are well thought out and make use of the natural terrain and topography wherever possible. There is an eye for fun, and a desire to create trails and features that are exhilarating and challenging for bikers of all skill levels.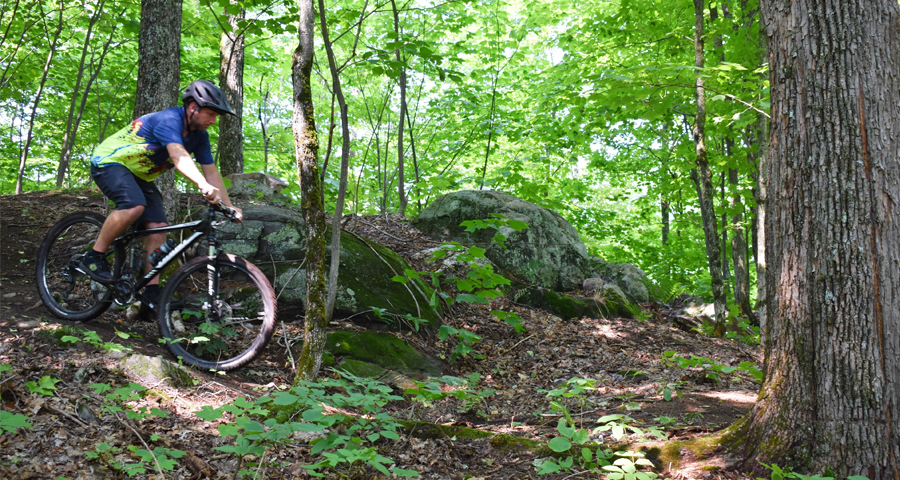 Lance's Loops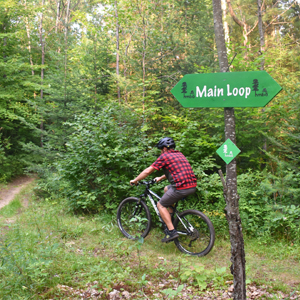 Recently, HMBA became stewards of a parcel of land with an existing trail network. When I was in high school (and I won't divulge how long ago that was, but it is measured in decades) the area known as Lance's Loops was a loose system of trails on private lands used by bikers, ATVs, and hikers. These trails have been used, and sometimes abused, for as long as I have been riding bikes. Seeking a more cohesive and low-impact use of the property, the landowners reached out to HMBA to provide mountain bike trails for use by their club members (only). In this partnership, HMBA maintains the trails using sustainable methods as well as providing insurance for their members. I went back to
Lance's Loops
for the first time in over a year and I was super stoked to see the improved trail maintenance and signage as a result of countless hours invested by the club's leadership and volunteers. The fast and flowing singletrack I remember has been meticulously cared for. There are new trails, some berms and banked corners and clear directions available from both signs and mapping on the Trailforks platform. Kudos to the property owners and this fruitful partnership dedicated to improving and preserving a network of trails just minutes from Huntsville's downtown. There is still plenty of summer left, so get out your mountain bike, call a few friends or pack up the family and head to Hidden Valley Ski Area for a fun and exhilarating ride through some classic rugged Muskoka terrain. Whether you choose the Intermediate trail, the Beginner loop or a combination of both, you will experience trail building at its finest. Consider becoming a member of the
Huntsville Mountain Bike Association
to get your exclusive access to the classic Lance's Loops and to help support future trails in the region.
Looking for more great cycling routes to ride in The Great Canadian Wilderness just north of Toronto? Check out on and off-road options at BikeCottageCountry.ca.
Guest Blogger:
Bill Farnsworth is a freelance writer who has lived in Muskoka for more than 30 years. When not writing, Bill can be found cycling, running, paddling and trying to keep up with his two adventurous boys.
This post was originally published on the Great Canadian Wilderness website here.