With the sport of fat biking continuing to grow in popularity – both for avid cyclists and for those looking to add a new recreational activity to their current lineup of winter adventures – snowy season events are a great way to enjoy a day out on the trails.
Ontario Fat Bike Series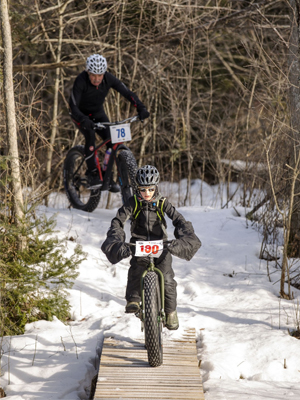 Sponsored by Cannondale and 45NRTH, the Ontario Fat Bike Series is hosting events happening at five different locations across the province from December-March. The third race in the series, held on January 26, 2019, will take place right here in the great Canadian wilderness just north of Toronto at the Georgian Nordic Outdoor Activity Centre in Parry Sound (a new location for the series in 2019!).
The race course will follow a mix of fast-flowing cross country ski trails and some fun single track that will be groomed out for the event. The Georgian Nordic Outdoor Activity Centre is a leader in the region for the promotion of winter cycling and is working hard to grow the sport here; a few of their local club members have even acquired some great new grooming equipment which is already being put to the test in preparation for the event! (Want to ride the trails before the race to get a leg up on the competition? Check out their website here for hours, directions and admission details).
The permitted tire sizes for the race will be the same as in 2018. There is a 3.0-3.5 x 27.5/29 category, as well as age based categories for 3.7 and up bikes. This event is well suited to anyone and everyone who is interested in fat biking. Looking to try something new but don't have a fat bike of your own? Fear not! Rentals are available locally from Parry Sound Bikes or Trysport Parry Sound, and they'd be happy to hook you up! Be sure to give them a shout with plenty of time to reserve your ride (or if you think this is a sport you'd like to become more active in, why not ask Santa for a fat bike under the tree? Local shops can certainly help you decide which bike is best for you).
Once the race has wrapped, stick around for some delicious chili at the finish line to warm up. Bonus points for participants who bring along their own bowl and spoon – the environment will thank you. To preregister your spot to participate in this event click here. On race day, onsite registration will happen between 12-1pm (cash only if registering day of) and the race will kick off at 2pm. For complete event details click here.
Muskoka Winter Bike Festival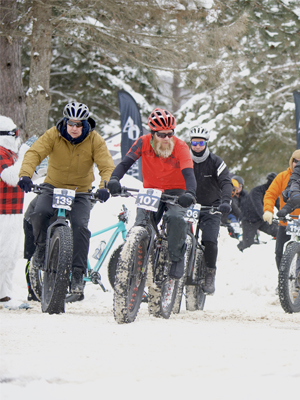 2019 will see the 2nd annual Muskoka Winter Bike Festival take place at Deerhurst Resort on February 2, 2019. A vision of The Bike Shop owners Kristi MacDonald and Matt Todd – whose business has locations in Gravenhurst and Huntsville – this family-friendly event will welcome cycle enthusiasts from throughout the province and beyond to Ontario's cottage country.
The event features an 11km machine groomed race course which travels around Deerhurst Resort with views of Peninsula Lake and highlights all of the natural beauty and exciting terrain the Muskoka region has to offer. There will be three different heats running in different waves; experienced riders hit the course first at 1pm, followed by novice riders at 1:30pm, and the kids race (12 and under) takes off at 2pm. To check out a map of the race course, click here. To download the route from Map My Ride, click here.
The festival has more on tap than the race itself too. When you check in at the staging area to pick up your race package, stop by the bike demo space to see what's new in fat biking or check out the other vendor booths located inside the resort. After the races are completed, awards will be presented at 2:15pm at the start/finish line, followed by a bonfire, live entertainment, chili and beer sampling at 2:30pm. Race supporters (anyone not participating in the race itself) may purchase a wrist band for $10 which includes the chili lunch and participation in the post race festivities. To view the complete schedule click here.
Make it a weekend getaway and plan to stay at Deerhurst Resort. Deerhurst will be offering a discounted room rate to race participants; when that code becomes available shortly, it will be posted here. And if you are staying the weekend, you're in luck! The date of this race also coincides with the True North Comedy Weekend with Steve Patterson at the resort. Add the dinner and show package to your weekend and really celebrate all Muskoka has to offer this winter.
To plan your stay in Ontario's cottage country – and to bike all winter long – visit ExplorersEdge.ca/stay