Looking for the perfect place to call home on your Cottage Country cycling adventure? With a beautiful, cycle-friendly property and a wealth of adventure just minutes from the doorstep, Four Ninety Bed and Breakfast in Gravenhurst is the spot for you. A recent recipient of a Bicycle Friendly Business Award from Ontario By Bike, you'll definitely want to kickstart your next ride at this Muskoka oasis.
The original home is 150 years old and dates back to the days when Gravenhurst was a thriving logging village known as Sawdust City. When current owner Susan Chute purchased it nine years ago it was in need of some love and care. At the time, the main cottage needed major renovations and the property, adjacent to popular Gull Lake Rotary Park, was in desperate need of landscape work. For three years Susan commuted from the city to the cottage, finally leaving the hustle and bustle and moving to Gravenhurst full time six years ago. Since then, Susan and her partner Jeff have transformed the property into the beautiful and thriving business it is today.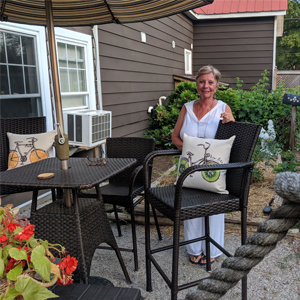 Susan always knew she wanted to operate a bed and breakfast, but her decision to attract cycling tourists is relatively new. After attending several local tourism conferences, Susan recognized that Muskoka offers the perfect combination of great cycling, beautiful scenery and a wealth of unique nightlife and post-ride activities. She also realized that attracting more cyclists to the region was not only good for business, it was good for both the community and the environment. She now regularly hosts guests and their bikes from across Canada and Europe to her little slice of paradise.
The Four Ninety Bed and Breakfast is an Ontario By Bike Certified Accommodation Provider. To receive certification, a property must provide a host of amenities required by cyclists. Susan has done a wonderful job of catering to her two-wheeled guests. She has a fully enclosed and locked shed for bike storage, a washing station as well as a basic set of repair tools and tire pump for guests to use. She is knowledgeable about local cycling destinations and has helpful information for guests to plan their routes. She also provides freshly baked energy bars (her own recipe!) packed with hearty and seasonal ingredients, along with water, to keep cyclists fueled, hydrated and in top form to conquer the incredible variety of roads and trails accessible directly from the property.
Finished your ride? It's time to unwind and enjoy the fabulous amenities offered at the Four Ninety Bed and Breakfast. Start with the outdoor shower where guests can bathe beneath beautiful blue skies or under a blanket of stars. Then check out the chemical free, ozone hot tub that is extremely therapeutic and soothing after a day in the saddle.  The lovely yard is completed by a meditation pond surrounded by flowers and reclining chairs nestled on rich grass, offering the perfect spot to read, plan the next day's adventure or just soak up the sounds and smells of a perfect Muskoka evening. Another feature of the property is the fact that it sits adjacent to Gull Lake Rotary Park. The park offers programs throughout the season, including Music on the Barge concerts, movie showings and many other special events. It also has a beautiful sandy beach that is perfect for a relaxing swim. Susan even has a canoe and will outfit guests who want to head to the beach and try paddling for themselves.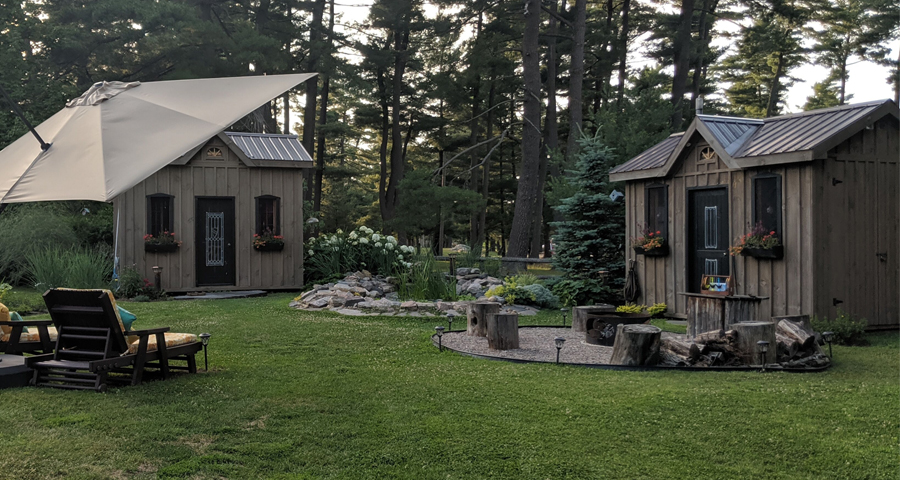 Susan has created a special Bike and Stay Cycling Package for two, specifically tailored toward cyclists. Available Sunday through Thursday, the package includes two nights accommodation in her "Captains Quarters" room, which was painted by a close friend to give guests the feeling that they are sleeping on a classic Muskoka Lakes steamship. Two breakfasts are included, where guests are free to choose from a detailed menu boasting multiple options made fresh with local ingredients and fruits when possible. The package also provides daily admission for two to Buckwallow Cycling Centre, a nearby mountain bike centre with over 30 km of custom designed and impeccably maintained trails just minutes from the property. Hot tub sessions and use of all the bed and breakfast's amenities are also included, making this package the perfect way to enjoy the best of Muskoka both on and off the saddle.
When planning your next cycling trip, consider heading to Gravenhurst in the heart of Cottage Country. Susan is ready to welcome you to Four Ninety Bed and Breakfast and ensure that you have the perfect cycling adventure. Whether you are looking for scenic roads, challenging trails or something in between, this Ontario By Bike award winning destination should be at the top of your list!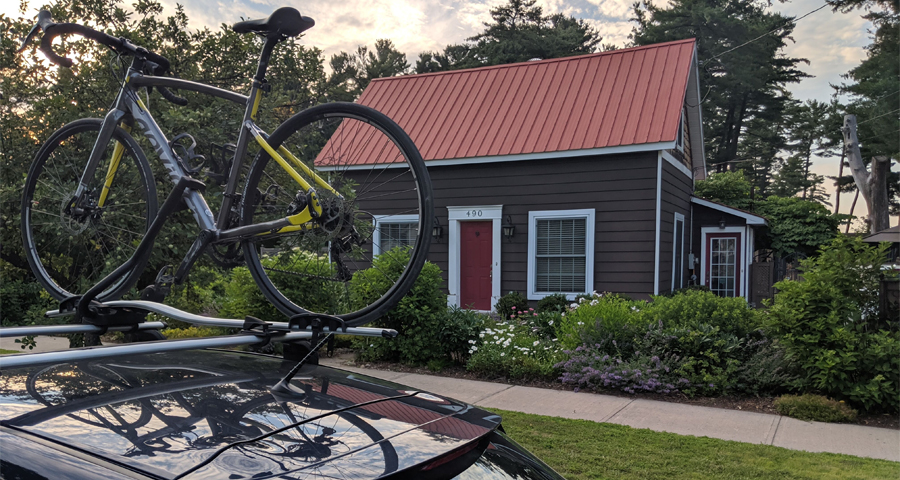 To plan your stay in the region, click here.

Guest Blogger: Bill Farnsworth
Bill Farnsworth is a freelance writer who has lived in Muskoka for more than 30 years. When not writing, Bill can be found cycling, running, paddling and trying to keep up with his two adventurous boys.