Hanging up your bike for winter to patiently wait for spring to come is a thing of the past. Here in the great Canadian wilderness just north of Toronto, we embrace winter in all its snowy glory and take to the forested trails, the frozen lakes and the beautiful back roads carved through Canadian shield landscapes to take on the challenge each new season brings and enjoy a little adventure 365 days a year.
EVENTS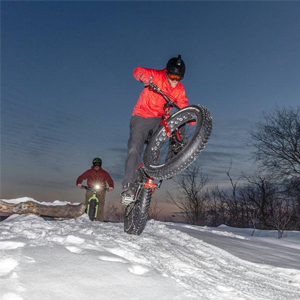 Try something new this winter with Liv Outside in Bracebridge and get ready for fat biking under the stars with their Thursday Night Fat Bike Group Rides (pictured left). Taking place weekly from December 19, 2019 to March 19, 2020 this ongoing event is wonderfully unique and you're not going to want to miss it! Meet in the parking lot at Liv Outside to depart at 7pm, say hello to your fellow riders and hit the onsite LIV Bike Park ready for an 8-10km ride along their meticulously groomed fat bike trails. Bring your own bike, or if you don't have one of your own, rent through Liv Outside – just give them at least a days notice that you'll be joining in so they're prepared with a rental set aside for you. You'll also need to have your own lights attached to your bike to participate. There is no cost to join the ride as long as you have your trail pass. They can be purchased right from the shop and are just $50 for the season or $10 for the day. And if you're a member of the Muskoka Off-Road Cycling Association they're offering a reduced rate – the perks! Some evenings there will be an after ride social in the parking lot, so be sure to stick around to mingle with some like minded folks.
If you're interested in getting in the saddle inside, check out the indoor cycling classes happening this winter at Parry Sound Bikes. Running from November to March, these classes are a great way to maintain your skills through the snowy season.
Ready to compete? Head north of Parry Sound to McDougall and register for your spot in the 45NRTH Ontario Fat Bike Series hosted by Cannondale. The second race in the series is taking place at the Georgian Nordic Outdoor Activity Centre on Saturday, February 1, 2020. Registration will take place from 12-1pm and the race itself will kick off at 2pm. There are short and long course options available – choose from 15km or 30km. This event is for anyone who enjoys mountain biking and is suitable for beginners as well if you're ready for a challenge and want to have some fun. Following the race there will be chili and hot chocolate for the riders at the finish line. And as usual, please bring your own cup, bowl and spoon and help do your part to reduce waste at this event.
WINTER CYCLING ON SITE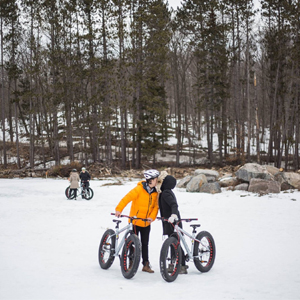 If you've never been on a fat bike before and want to give it a try, think about booking a stay at one of the resorts across the region that are now stocking them in their arsenal of recreational gear for onsite guests. Deerhurst Resort in Huntsville has their own trail system right on site and rents bikes to their guests for just $20. Check out their extensive list of winter packages and plan to add a rental on to your stay when you book (advanced reservations of equipment are always recommended to avoid disappointment).
You can also hop on a fat bike while staying at JW Marriott The Rosseau Muskoka Resort & Spa in Minett (pictured right). Rentals are included with your resort fee (they can be picked up from the concierge desk), and if you're staying over the holiday season then you are seriously in luck. From December 21, 2019 to January 5, 2020 there is a TON of guided tours and activities taking place, including a guided fat bike ride with their guest naturalists. You can view the entire recreation schedule here and plan your stay around the activities you most want to try.
Own your own bike and looking to up the challenge factor a little? Then you'll want to get in touch with Missing Link Adventure Tours in Burk's Falls. Newly opened in summer 2019, this amazing farm stay property specializes in cycling tours in the spring, summer and fall and can get you on the trails in the wintertime too. Their 7km onsite trail system offers varying degrees of difficulty and can be used by introductory level riders or experienced riders seeking a challenge. Book your stay with a group of friends and family this winter and partake in more winter exploration to be had as well. Snowshoe, cross-country ski, toboggan, try orienteering with instruction provided, or book a dinner in the forest to enjoy after your day on the trails. They'll do all the cooking while you enjoy a hot meal in a cozy heated wall tent in the heart of the woods. Snowshoe back to your warm bed after dinner and be ready to do it all again the next day.
WINTER TRAILS
Have your own bike or secured a rental? (Rentals can be made through Algonquin Outfitters, Liv Outside and Parry Sound Bikes, to name a few). Check out the trails below with your ride and get ready for adventure.
Chamberlain Trail Gravenhurst
Devil's Gap Trail Gravenhurst
Echo Valley Nature & Bike Trails Dwight
Georgian Nordic Outdoor Activity Centre McDougall
Kerr Park Trail Bracebridge
Limberlost Forest & Wildlife Reserve Huntsville
Liv Outside Bike Park Bracebridge
Muskoka KOA Trails Gravenhurst
Old Railway Bike Trail Algonquin Park
Rotary & Algonquin Regiment Waterfront Fitness Trail Parry Sound
Seguin Recreational Trail Parry Sound
Torrance Barrens Dark Sky Preserve Torrance
To plan your stay in the region, click here.