This season there is an exciting new way to see cottage country's natural beauty, charming villages and scenic roads. Humdinger Bicycle Tours is offering all-inclusive, fully supported cycling tours that will allow you to experience the best routes and the most iconic attractions in the region.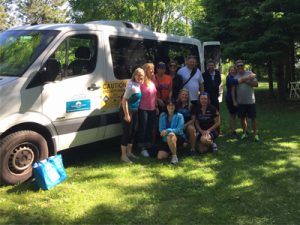 Humdinger Bicycle Tours is the brainchild of Orillia resident Sara McEwen. An avid cyclist, Sara has been cycling throughout cottage country for many years. While planning and researching a European cycling trip for their anniversaries, Sara and a friend came to the realization that perhaps they might be able to plan their own trip that would be both more enjoyable and affordable than many of the packages available. The idea percolated in Sara's mind for several years. After many tweaks and months of planning, Sara is ecstatic to be offering other cyclists the opportunity to experience some of her favourite cycling routes for themselves.
Humdinger tours are extremely personalized. With small groups of between six and twelve riders cycling with two or three guides, everyone gets to know each other quickly. Being on the road together for several days or more allows participants to tailor their tour to the style of riding they are seeking. Some groups may be interested in posting some high mileage days with fewer breaks, while others may want to take the time to stop at some of the local sights and learn more about the history of the route they are riding. Humdinger's tours are flexible enough to be customizable to suit different types of riders and interests.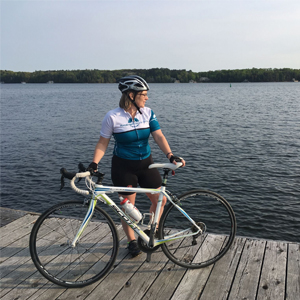 The tours are fully supported with a van available to assist in repairs, first aid or as a short rest stop should a cyclist need a break. Humdinger also uses the van to skip over some of the busiest or least scenic stretches of road, ensuring that the kilometers cycled will be as enjoyable and stress free as possible. The tours include all accommodations and most meals, as well as snacks and drinks during the ride.
In their inaugural season, Humdinger is offering three and six day tours that feature some of the best riding across Muskoka. The Muskoka Lakes three day tour starts and finishes in Orillia with daily distances between 70 and 90 kilometres. Cyclists spend both nights at the historic Sherwood Inn on beautiful Lake Joseph. Participants will pedal the winding and picturesque roads around "the big three" Muskoka Lakes: Lake Rosseau, Lake Muskoka and Lake Joseph. Care has been taken to minimize vehicle traffic while ensuring that there are interesting and picturesque rest stops along the way. Local sights to explore include the Torrance Barrens Dark Sky Preserve, Gravenhurst's Muskoka Wharf with its restored steamships and many of the region's quaint communities including Port Carling, Bala and Port Sandfield.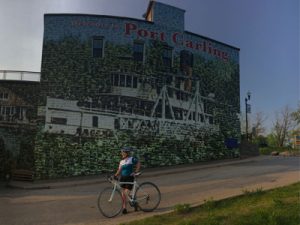 Humdinger's signature tour is their six day Georgian Bay-Muskoka Tour. The tour begins in Parry Sound, where cyclists will enjoy a boat tour of the 30,000 islands of the Georgian Bay Biosphere Reserve. Over the next few days cyclists will travel around Muskoka, again taking in the wide open lake vistas and the challenging terrain of the rugged Canadian Shield. The tour then heads back to the shore of Georgian Bay, with stops including Port Severn, Midland and Wasaga Beach, the world's longest freshwater beach. Finishing in Collingwood, cyclists will circle the beautiful Muskoka Lakes and the iconic shores of Georgian Bay in six days of incredible riding.
For those looking for a more relaxed adventure with shorter distances, Humdinger also offers a three day Pedal, Pints and Pubs Tour that explores the nearby Haliburton Highlands. If you have always wanted to see the best of cottage country from the saddle of your bike, Humdinger Bicycle Tours might be the perfect choice for you. Fully supported with experienced and knowledgeable guides means you can spend your seat time taking in the sights instead of worrying about logistics. Sara and her crew will ensure that you experience the best the region has to offer. Visit their website for tour dates and booking options and start planning your own Muskoka cycling adventure today.