Writer and rider Bill Farnsworth heads out on the newly bare pavement of early spring (in the year it seemed like it would never come) and heads out to explore some unique early season routes in the wilderness north of Toronto.
I grew up riding the roads of Ontario's cottage country, so my recommendation for five routes to ride in early spring draws from my list of personal favourites. This year the weather has definitely provided more than a few surprises but, even with some snow still visible along the region's roads, spring seems to finally be here and it is time to break out the bike, update your Strava app and hit the pavement. On this list you will find a couple of old favourites sprinkled with a few new twists to discover. Wherever you end up, you are guaranteed to be challenged, rewarded by the amazing scenery, and surprised by how little traffic you'll encounter on any one of the following adventures.
Algonquin Park
Algonquin Provincial Park turns 125 this year, with special events and celebrations planned for the season. Highway #60 is a winding ribbon of asphalt with wide paved shoulders that traverses nearly 70 km of the park from the West to East gates. Not for the faint of heart (or weak of lungs!), the road rises and falls with the rugged landscape and winds between clear blue lakes and majestic forests as far as the eye can see. There are some long climbs, but your tired legs are rewarded with unparalleled wilderness vistas. While the highway gets busy in the summer months with cars and RVs, I absolutely love Algonquin in the spring. This year I parked my car at the Lake of Two Rivers picnic area and headed east. I was treated to expansive views over the lake itself, shoulders with little to no sand and very few cars. My 40 km pedal was tough enough to make me feel like I had put in a great ride, but moderate enough that I was able to walk comfortably the next day. Spring is also the best time of year to see wildlife in the park, as moose and deer head out of the bush and beavers and birds get reacquainted on the lakes. For those looking to cover more serious distance, consider parking at the village of Dwight. You can log an early season century by pedaling from there to the East Gate and back.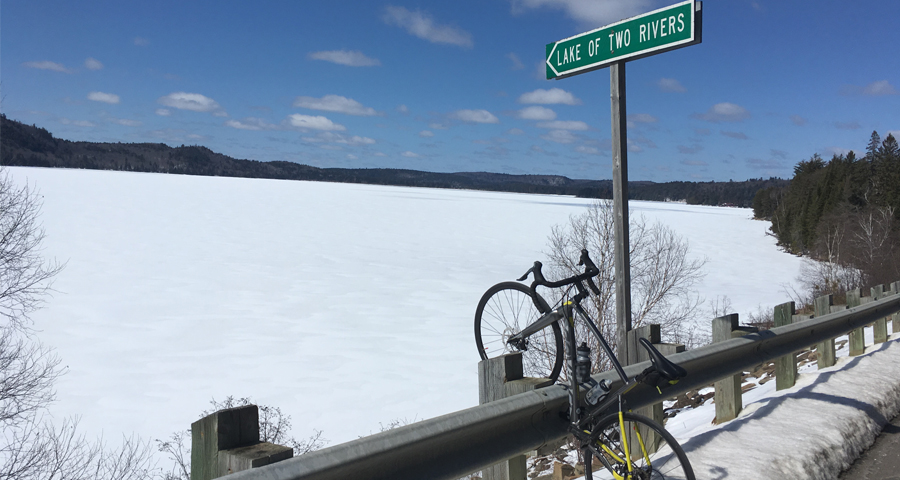 Almaguin Highlands
Connecting the towns of Parry Sound and Sundridge, Hwy #124 is a great spring route with all but the 20 km between Parry Sound and the village of McKellar having wide, paved shoulders. With beautiful scenery and very little traffic, every time I ride this stretch of road I am left with a smile on my face and can't wait to return. Less hilly than Algonquin, the road still has plenty of climbs as it undulates with the terrain and passes through open farm fields. My favourite section runs between Sundridge and Magnetawan. A 50 km round trip, the route is longer than most rides I complete during spring training, but also one of the most rewarding. This spring I rode a little farther past Magnetawan to Knoefli Falls, where the mighty Magnetawan River surges over a dam and under the highway. When the snow is melting, this torrent of water is a powerful sight to behold. If you want to add more distance to this ride, consider challenging yourself with the AIM Triangle. Christened by the Almaguin in Motion Cycling Group, the loop travels from Sundridge west to Magnetawan, then heads south to Burk's Falls before returning north to Sundridge. At 65 km, the route has many options for rest stops with food and drinks available. Click here for more details about the Triangle.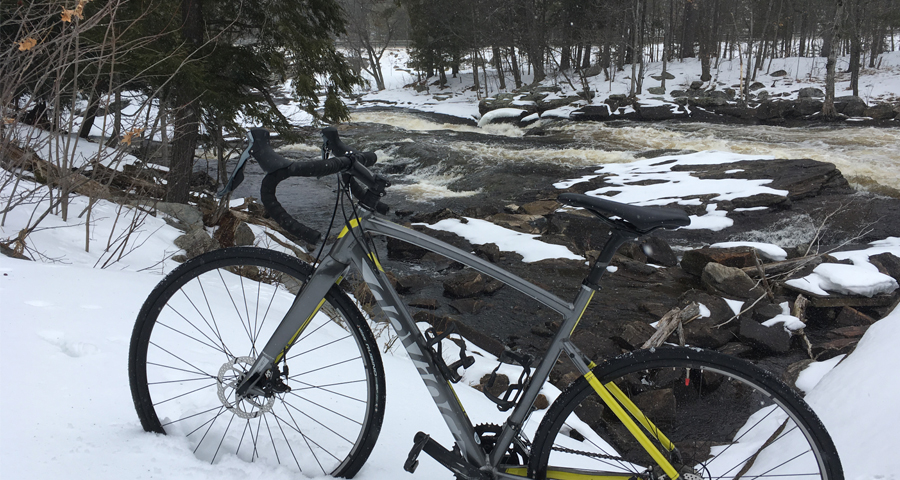 Loring-Restoule
At the northern edge of cottage country, Loring-Restoule has the least travelled roads and some of the quaintest stops of any route in the region. Restoule Provincial Park is one of my favourites in the province, so this year I headed north to see how close I could get to the park in the pre-season. After parking in the town of Restoule, I headed north on Highway #534 toward the park. The route began to climb and drop immediately, but each struggle was rewarded with stunning views of – you guessed it – Restoule Lake. The pavement was in good shape and I encountered only two cars on the entire 20 km out and back route. After stopping to take the obligatory photo with the park sign, I turned around at the park gate. With multiple small roads running near the town, it would be easy to add some additional distance to this perfect stop on your early spring tour.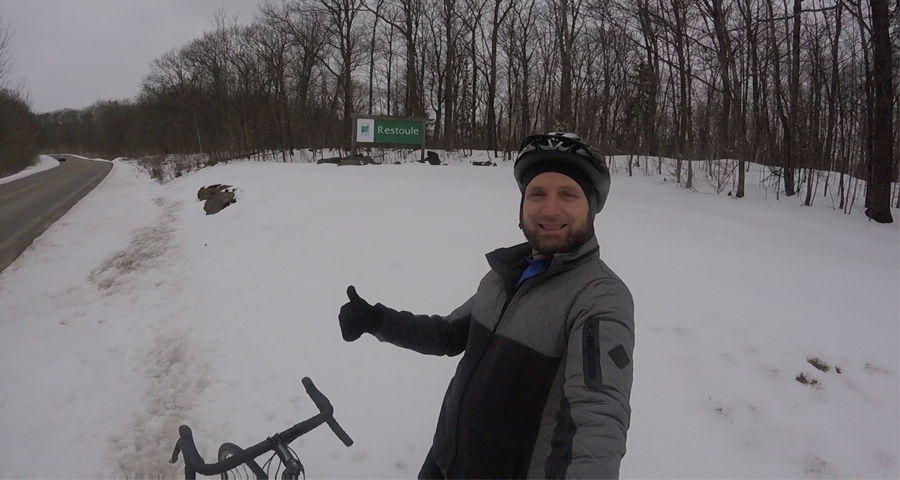 Muskoka
Anyone who rides with me knows that I rave about Muskoka Beach Road. Travelling between Bracebridge and Gravenhurst, this quintessential country back road winds through the forest and ends up at Muskoka Beach on the shores of Lake Muskoka. While the lake was still frozen over the day I rode, the beach still made a perfect rest stop. I prefer to ride the road as part of a loop that returns by following Gravenhurst Parkway along the outskirts of Muskoka Airport – you never know what type of plane you might spot on this loop. The 26 km route also passes another of my favourite stops – Muskoka Brewery. By planning to end here, you can sample some of their award-winning brews and relax by the fire on their outdoor patio. This spring, the first few kilometres of pavement past the brewery were rough and had some potholes, so take your time or consider bringing your gravel bike.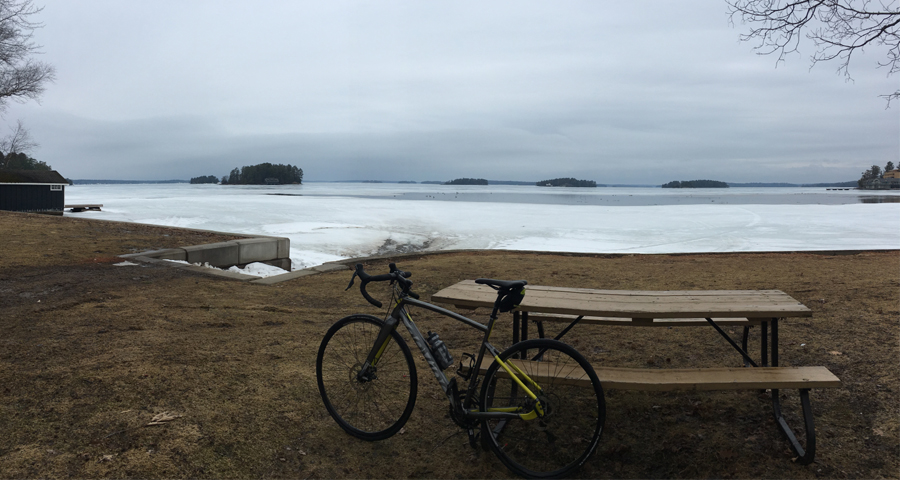 Parry Sound
Last season I had the opportunity to participate in several group rides with the Parry Sound Bikes crew. The scenery in the region is very unique – one part windswept shorelines and the other small, quiet lakes and winding roads. I learned many new routes, but I have to say that my favourite is an out and back cycle along Highway #518. While this stretch of road does not have the wide paved shoulders that some of the other routes on this list possess, 518 in the spring has few cars and amazing scenery as it travels past small lakes and open pasture. It also has butter tarts! I always turn around at Orrville, and I always make sure that the Orrville Bakery Barista is open before heading out. Take a break at the midpoint of this ride and enjoy a coffee or latte with homemade baked goods or an amazing pulled pork sandwich (my favourite!). If you park at the Parry Sound waterfront you can also enjoy a cool-down walk along the shores of Georgian Bay.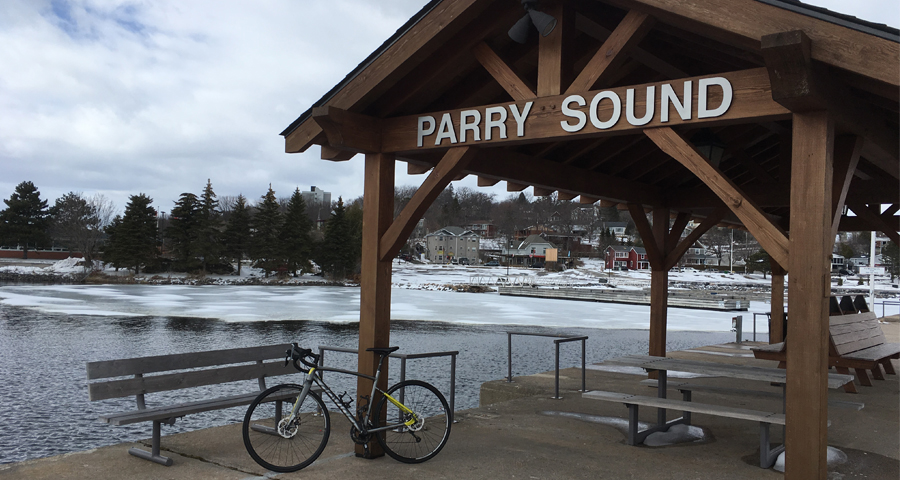 There are endless great roads to cycle in our region, but try one of these five routes and you might just discover a new favourite as you whet your appetite for more spring and summer adventures. I truly believe that the roads of Ontario's cottage country are the best in the province. Get in on the action before summer hits with hot, humid weather and the roads become busier. (But here's one last secret – we have back road adventures that are hardly driven all year round!) I hope to see you in the saddle this spring.
Looking for more spring riding ideas? Check out Bill's escapades from last season by clicking here.