Outdoor adventurer and photographer Martin Lortz participated in the inaugural season of the Muskoka Winter Bike Festival – and he was not disappointed.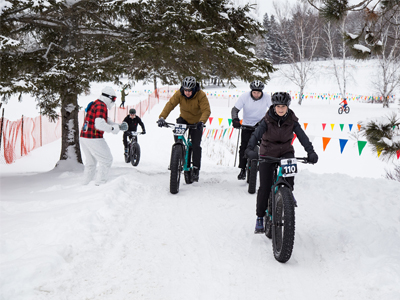 It's funny how sometimes you arrive at an event and instantly you get the feeling this is going to be a good one. Well, this is one of those times. Maybe it's the open expanse of northern Ontario space that just makes you want to inhale, or maybe it's the buzz of activities all around. Out on the lake skaters glide along the ice trail, others partake in a game of shiny. Snowshoers, cross-country skiers, snowmobilers, winter passion is in full effect. But there is more to it than that; then you realize, it's the people, the organizers, the participants, smiles all around, the vibe is infectious, yes it's going to be a good one.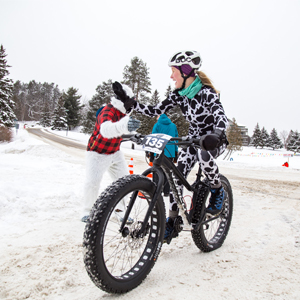 We are at the spectacular Deerhurst Resort on the outskirts of Huntsville, Ontario for the first, but aiming to be annual, Muskoka Winter Bike Festival, hosted by The Bike Shop in Gravenhurst and Huntsville. On the agenda, fat bike racing of course. Taking advantage of Deerhurst's open and hilly landscape, a six kilometre ribbon of snow has been machine groomed for the participant's pleasure. You have the options of enjoying the loop three times, a distance aimed at the more experienced riders and beginners that like to jump in both feet first. Or for those that prefer to take baby steps into a new activity, there are three laps around a modified three kilometre loop.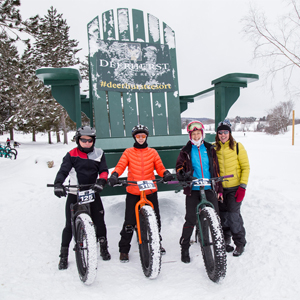 With fifty plus riders chomping at the bit to get going, when the starters flag drop, racers will race. Recent fresh snow made for some challenging soft spots but it is all smiles and high fives at the finish line. Next on the line is the newbie group. From the young to young at heart and everything in between the race is on. Judging by today's numbers it's awesome to see that the beginners outnumber the experienced, a demographic that definitely reflects the quick gain in popularity of fat biking.
As racing goes the Fat Bike post-race scene tends to favour a 'relax and hang out approach' and today is no exception. A fire crackles in the fireplace, a big pot of chill steams on the hot plate and local brews chill in a snow bank, as prizes are awarded amongst cheers of approval. I think it's safe to say good times had by all and The Muskoka Winter Bike Festival is here to stay.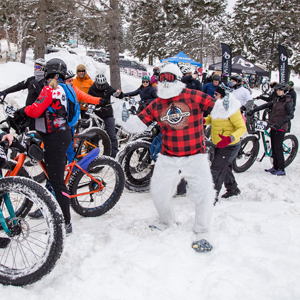 If you are reading this and thinking, "that sounds awesome, should have gone," well you're in luck, sort of. The annual in the name means that the Muskoka Winter Bike Fest will be back next season but if trying fat biking is what you are after now, there are plenty of options in Muskoka to make that happen.
You can make your way here to Deerhurst Resort; they have fat bikes available and the resort grooms a loop suitable for beginners or you can try riding the snowshoe trails for more of a challenge. There is a groomed trail in nearby Algonquin Park, bikes can be rented in Huntsville at Algonquin Outfitters or Muskoka Bicycle Pro Shop. In Bracebridge, LivOutside rents bikes and grooms an amazing loop practically at their front door. In Parry Sound bikes are available from Parry Sound Bikes or Trysport and you will find groomed trails at the Georgian Nordic Ski Club. No excuses, get out there and get some.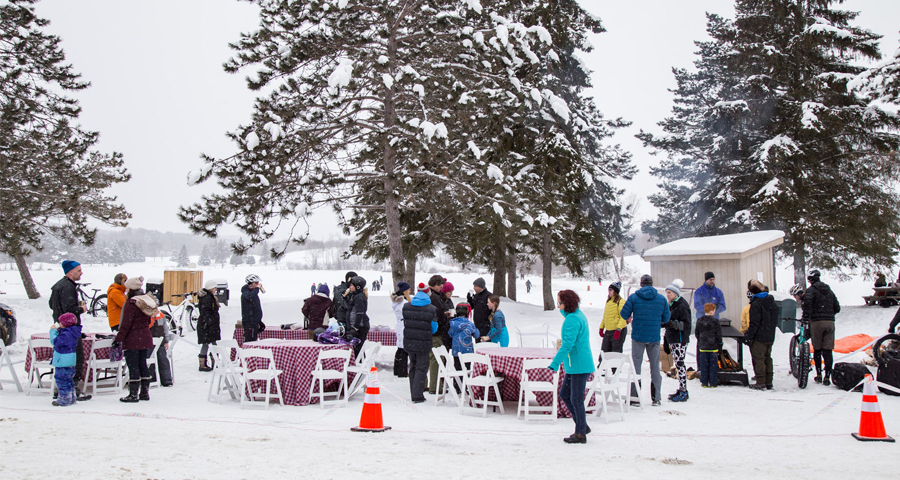 Guest Blogger: Martin Lortz
Martin is a freelance photographer and writer specializing in the outdoor lifestyle. Whether he is covering power sports or family-oriented pursuits, his passion for capturing the beauty of nature and the people who partake in it is evident in his work. His photos and articles have appeared in magazines such as Ski Canada, Explore, Bike, Mountain Life, Snow Goer,Kayak Angler, and Family Camping.
Photos by Martin Lortz