Parry Sound will host the 7th annual Pedaling for Parkinson's ride from July 14 to 16, 2017, where over 250 cyclists will tour hundreds of kilometres through some of the most gorgeous scenery in Ontario's cottage country to raise money for Parkinson's research.
Located on the shores of Georgian Bay, Parry Sound has some of the best roads for riding in the province, and Pedaling for Parkinson's is a great way to experience the stunning beauty of it all. Over the three days of riding, each day heads in a different direction to showcase the area's incredible natural scenery. Groups cycle together, sharing stories and creating friendships as they wind through forests and past rocky shores, on roads with neat twists, turns and curves. Multiple distances are scheduled, ranging from over 100km to 40km, ensuring that riders of all skill levels can participate.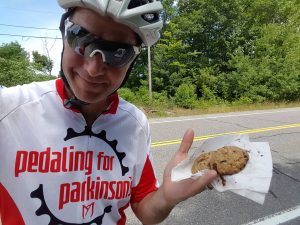 The event is well known for its amazing volunteers and unique food stations. Friends and family members of those with Parkinson's come out to cheer on the riders and provide nutrition stops along the routes. Among returning cyclists, the Parry Sound ride is known as "the cookie ride." Every year since the event's beginning, the mother of one of the organizers has baked dozens of homemade cookies that she gives out to riders, along with a hug to cheer them on and thank them for their support.
At the end of the event, there is also a post-ride barbecue of homemade burgers topped with locally produced "fixings." Prizes are awarded, cycling tales shared, and many riders make plans to return to the area and cycle more of Parry Sound's incredible routes.
Pedaling for Parkinson's is a grassroots event, with the overwhelming support of local businesses and volunteers enabling the organizers to create a unique experience with a close-knit family feel. It's the little things that differentiate this event from other fundraising tours. After registering, every participant receives a personal email from the organizers thanking them for their support.
Every rider also receives multiple gifts for their generosity. Some of the free swag donated in previous years included handcrafted pottery mugs, locally made soap and natural honey, Crofter's jam products, day passes to the nearby Georgian Nordic Ski and Canoe Club to try their new mountain bike trails, and cruise tickets aboard the Island Queen Cruise ship.
This year, plan to take part in the Pedaling for Parkinson's ride and experience the rugged splendor of Parry Sound for yourself. You will pedal challenging and scenic roads, make friends and share memories with fellow cyclists as you raise much needed research dollars.
For more information on Pedaling for Parkinson's, click here.
Click here to discover more cycling routes in Parry Sound and across cottage country.