Writer and rider Bill Farnsworth heads out to join multiple group rides for some epic cycling in the wilderness north of Toronto – and to challenge himself like never before.
Solo cycling the incredible roads and trails across cottage country can be an extremely rewarding  experience. Riding with a group, however, adds a new level of enjoyment as you are challenged to push your limits and improve your skills – a friendly rivalry, afterall, is one of the best ways to see fitness gains. Not to mention the kilometres flow by as you experience the camaraderie of fellow cyclists who share your interests. Off road, following in someone else's line offers a different perspective and can help you increase your speed and enhance your technique. (See below for a listing of group rides throughout the region.)
With so many different groups to join across the region, I decided to participate in a different ride every day or night for a week to showcase the amazing options offered. Along the way I discovered that, whether you ride with one other rider partner or with 50 fanatics, pedaling in a group is often more fun and more rewarding.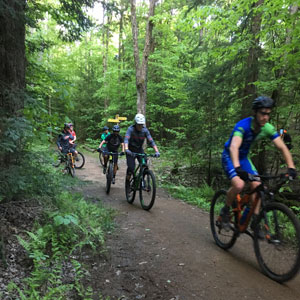 To kick off my challenge I attended the 2017 Muskoka Demo Festival at The Buckwallow Cycling Centre in Gravenhurst, where cycling manufacturers brought their demo fleets for riders to sample. Taking the opportunity to experience many bikes that were way above my pay grade (like – way above…these were some NICE bikes), I ended up riding almost 50 km testing various rides over the most challenging trails Buckwallow had to offer.
The highlight of the event for me, and the reason I chose the festival as the start of my challenge, was the mass group ride that took place at the event's close. Nearly 50 riders headed out onto the trails for what was a wild night of friendly competition over some of Muskoka's most varied terrain. From exposed rock to uphills covered in roots and fast and flowing singletrack, the ride featured something for everyone and finished with a bonfire and beverages. Total Day One distance: 65 km!
The next day – Saturday – I headed to the Georgian Nordic Ski and Canoe Club for the season opening of their mountain bike trail system. Over the past several years a dedicated group of volunteers has been creating technically challenging singletrack trails that make excellent use of the centre's rugged and unique terrain. Riding with a group of mixed age and ability levels, we climbed and conquered everything Georgian Nordic could throw at us, albeit with some scrapes and blood (all from me!). After 15 km of trail riding, my legs wobbled like jelly, but I was left wanting more.
Sunday morning arrived and featured cool temperatures and a steady rain. The Bike Shop runs a group ride weekly from their new location in Huntsville, Muskoka but the official ride was cancelled this day due to wet weather. However, owner Matt was kind enough to agree to ride with me in the rain to keep the challenge going. We headed out of Huntsville on Ravenscliff road and completed a 20 km out and back route, all the while talking about the Bike Shop's new location and a shared passion for cycling (albeit in dryer conditions!).
Monday nights at Trysport in Parry Sound is 'The Nacho Ride.' The night is an entry-level road and mountain bike outing that teaches bicycle skills and maintenance, followed by a short tour. Participants bring ingredients and everyone makes and enjoys nachos together when they're back at base. (The ride was cancelled the week I was going to go, so my girlfriend rode a respectable 15 km on the road with me to keep the challenge alive.)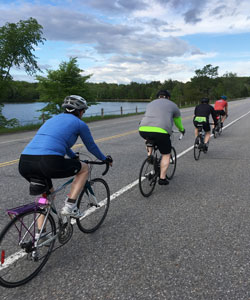 Tuesday looked rainy all day, but by 6pm the sun was peeking through the
clouds and I was off to ride with Parry Sound Bikes. Every Tuesday night, three groups leave from the shop's Parry Sound location, each with different average speeds and distances to accommodate riders of all abilities. I headed out with the middle group, with Dave from the shop leading the way.
In less than ten minutes we were outside of the town and onto an amazing series of cottage roads. Winding up and over hills and around scenic lakes and rivers, the route was a perfect mix of challenging sections interspersed with flat recovery zones. We met so few cars out on course that one could almost forget we were on public roads. After completing 38km, we met back up with the other groups to swap stories and socialize over muffins and beverages.
Wednesday night I was back on my mountain bike for LIV Outside's ride at The Buckwallow Cycling Centre. Unlike my last ride here, this group was small and super fast, hammering over technical sections and ripping through switchbacks. 11 km went by extremely quickly, but by the end I started to make "tired mistakes," incurring falls due to lazy technique and form. This personal week-long challenge was clearly wearing me down! As there were only four of us this night, the pace was much faster than average. Peter from LIV Outside assured me that their regular Wednesday rides cater to all abilities and all are welcome.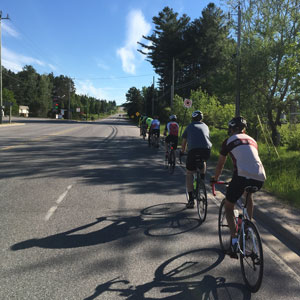 For my final day of the challenge I participated in the Almaguin in Motion (AIM) Thursday night road cycling ride. Last season, an introductory outing with AIM got me hooked on road biking, and since then I've joined them every chance I get.
The Thursday night rides depart from different locations throughout the Almaguin Highlands and offer multiple distances for all ability levels. Check their Facebook page or their new website for weekly details. This week's route left from the Northern Roadhouse in Sundridge and cycled to the Village of Burk's Falls and back. The tour was challenging and full of elevation changes. After a week of action my legs felt like jello, but with encouragement from fellow riders I managed a respectable 38 km. Afterward, the entire group gathered in the Roadhouse and I shared stories of my conquests and adventures from the previous week.
Wherever I pedaled during my week long challenge I met riders who are passionate about cycling and dedicated to getting more people out on bikes. After logging more than 200kms I can say that, while pedaling with a group can be more challenging, it is always more rewarding – and I highly recommend that you come out when you're visiting cottage country.
Below is a list of group rides throughout our region. Whether you are a local, a cottager or are just visiting for a few days, bring your bike and head out with a group on the best roads and trails in the province.
Monday
Trysport Parry Sound Nacho Ride – Bring your mountain or road bike to Trysport's Parry Sound location at 6:30pm for an hour of cycling and skills training, before returning to make nachos and socialize.
Tuesday
Algonquin Outfitters – This mountain bike group ride has been going for 25 years. Meeting behind AO's Huntsville location at 6pm, the 2 hour ride explores local trails and is open to riders of all levels. Staff participate in the outing and bring tools to ensure no one gets left behind.
Parry Sound Bikes – A group road ride that runs from their Parry Sound location from 6 – 8pm. The night features several groups with varying speeds and distances to suit all cyclists.
Liv Outside – This 2 hour road ride leaves from their Bracebridge location at 6pm.
Ecclestone Cycle – Leaving from their Bracebridge shop, bring a twoonie donation to the Ride to Conquer Cancer and ride a 30 km short loop leaving at 6pm.
Wednesday
Liv Outside – Group mountain biking starting at The Buckwallow Cycling Centre at 6:30pm or the Simcoe County Forest Trails at 6:45. Open to riders of all abilities, although some trail riding experience is recommended. Call the shop or visit their Facebook page for details on the weekly starting point.
Thursday
Almaguin in Motion – Group road ride that begins at 6pm. The location varies throughout the Almaguin Highlands, always beginning at a local pub/restaurant, so check their Facebook page or their new website for details. There are several groups that pedal distances from 20 to 50 km for riders of all levels.
Parry Sound Bikes – Group mountain biking that takes place at the Georgian Nordic Ski and Canoe Club. Rides run from 6:30 – 8pm, with several groups for all abilities, including skills training and singletrack riding. A day pass or membership is required, which can be purchased at Parry Sound Bikes or Trysport Parry Sound.
Friday
The Bike Shop – Road ride beginning at their Gravenhurst location at 6pm. The route is between 30 to 50 km in length and is a great workout for cyclists of all abilities.
Saturday
Trysport Parry Sound – This intermediate road ride leaves their Parry Sound location at 7:30 am. The route averages between 30 to 50 km in length, with coffee and treats afterward.
Liv Outside – Saturday morning group road rides that run from 8 – 10am from their Bracebridge store. This is a weekly outing for experienced group riders looking for a 50-65 km loop at a 28 kph+ average pace.
Ecclestone Cycle – 2 hour Saturday morning group road ride that leaves their Bracebridge shop at 8am. Bring a twoonie donation to the Ride to Conquer Cancer and cycle a local route that varies up to 60 km. The ride runs most Saturdays except for holidays and events – June 17, 24, July 8, 15, 22, 29, August 5, 12, 19, 26.
Sunday
The Bike Shop – Sunday morning road group ride leaving their new Huntsville location at 9am. This is an intermediate outing with distances of approximately 50 km.
To plan your stay in the region CLICK HERE.
Have a group ride that's not on the list? Email the details to [email protected]